Your donations help T1Determined #keepgoing.
Event Report: 5x Ironman Challenge
Why do a 5x Ironman-equivalent event?
May 2022 was my 50th "diaversary", or anniversary of diagnosis with Type 1 diabetes. During the summer of 2022, I set out for myself the goal of doing the equivalent of one Ironman for every decade I've lived with the disease.
My plan was to do an event of my own making, with my own rules about things like the number of miles per day or whether I could stand during the swim, just to see what I was capable of doing. Moreover, I wanted to do an event that required a 12-mile swim, as I had been training most of the early part of the year and during fall of 2021 for a 12.5-mile swim around Key West, so I didn't want to waste my training.
I picked October 3rd as the start date for a number of reasons. First, I knew from experience that late in the first week of October in the Dallas-Ft. Worth area, water temperatures at the lakes drop below 75 degrees, into what's known as "wetsuit season." That's the temperature range in which the water is generally cold enough to cause hypothermia without a neoprene overlayer of some sort. Swimming in a wetsuit is harder than without one, since the extra garment over the shoulders can pull back on the arms during the swim stroke. So I wanted to avoid starting so late in the year that I'd have to wear a wetsuit. The second reason was that I wanted to finish the bike portion of the 5x Ironman on the day of the American Diabetes Association's Texas Tour de Cure, October 15th, 2022.
Pinning parts of the event between those two dates gave me the structure I was looking for: a single-day 12-mile swim during a time of year when there was enough sunlight and warm enough water to accomplish it, followed by one rest day, 10 days of cycling 56 miles a day (including one travel day to Ft. Worth before the ADA ride), followed by one rest day, followed by 4 days of running 33 miles a day, with the last day just a mile shorter than the others for the numbers to work out to 703 miles: 12 miles of swimming, 560 miles of cycling, and 131 miles of running.
It seemed like a reasonable goal, since I already routinely swam that distance at least once a week and I had already run across the country, averaging right in the same range of daily miles.
The swim portion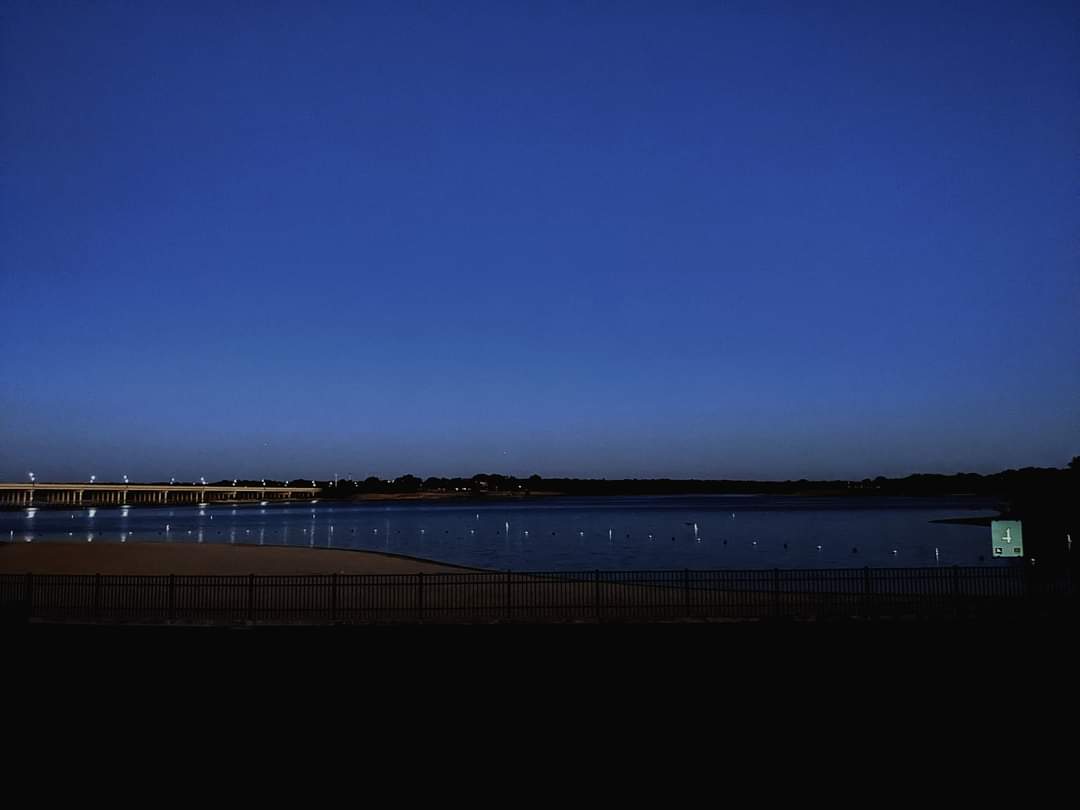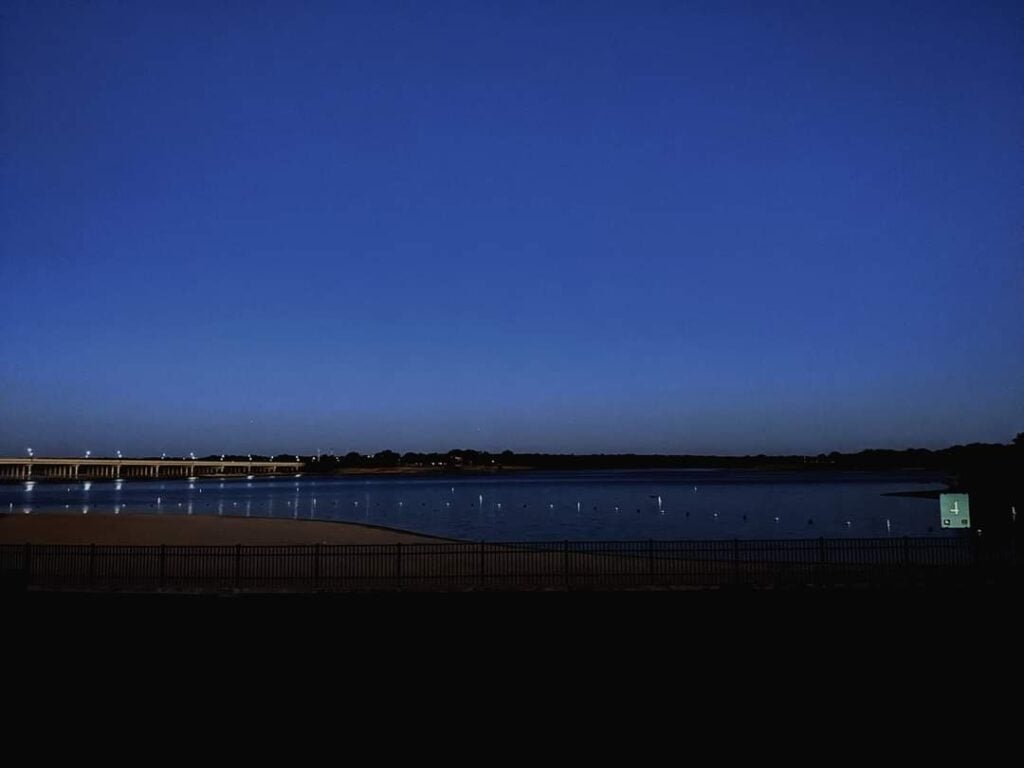 The swim got off to a shaky start. I arrived at Lake Lewisville about an hour before dawn, planning to finish getting my gear together, visit the restroom, and test the water temp before getting in. The water that morning was a crisp 69 degrees, and I had to make the call to wear a wetsuit top, which caused about a 15 minute delay. That may seem excessive until you consider that I was trying to put on a rubber suit over already-wet skin with the pre-dawn minutes ticking away. In the end, I got started right at dawn rather than at first light and spent most of the day in a race against sunset.
The swim itself was mostly uneventful, and none of the shoulder pain I had experienced during training visited me during the actual event. For a while at the start, the sun sitting low on the eastern horizon was blinding, but that improved over time and in the meantime, I chose to breathe more on the side of my body away from the sun, near where my kayaker John was.
I chose to do one "feed" in the water–that includes treading water while drinking a fuel mix (Untapped maple syrup mixed into a whey shake) from a large-mouth resealable plastic bottle tossed from a kayak–but did the rest of the feeds on the shore, with a couple of extra Untapped packets tucked into the hemlines of my jammers in case of low blood sugar. Most of the feeds I did standing in the water just offshore and reasonably fast, no longer than 5 minutes. There might have been a slightly longer one at lunch, but for the most part, our whole team–John the Kayaker, Leslie, and I–rode herd on breaks and kept them to a minimum. In fact, the possibility of interrupting an already tight schedule was one of the reasons I cringed after inviting folks to join me for the swim, which in retrospect I am grateful they did not.
After a chilly morning, the water temp improved a bit and the swim was comfortable. The water was calm and still throughout most of the day and the water felt like it was about 75 degrees. I kept waffling on whether to take off the wetsuit top, which toward the end of the day was chafing my neck, but chose not to, as by then I was starting to feel a little chilly from exertion and the gradually dropping water temps.
A late-afternoon restroom visit added another 15 minutes to my anticipated finish time, and by 4 PM, I was already noticing the bright sun inching slowly closer to the horizon. (I know you're curious about the restroom breaks, so…yes, I normally just pee in the water, but I can't–and won't–do the other thing there. :-O ) Thank God for real restrooms with flush toilets.
Owing partly to the unanticipated delays and largely due to my plodding pace, I finished the swim about half an hour after sunset, with the last rays of yellow barely glinting over the silhouettes of houses against the water. I would not normally choose to swim that long in the waning light, and I adjusted my course to stay in the alcove closest to the crew van until I got out.
Overall, my sugars were well-behaved, though they ran close to 180 mg/dl (10 mmol) in the morning after my delay getting into the water. Most of my fuel stops came at around 1.2-mile intervals since that was the distance from the alcove where I entered, along the no-wake buoy line to the boat dock by the bridge, and back.
During the day, I had worn two watches: a Garmin and a Suunto, and somewhere along the line forgot to resume the Garmin after a pause and it recorded only 11 miles. But I was pretty proud to see the 12 miles register on the Suunto as the last rays of sun filtered into nothingness.
The bike portion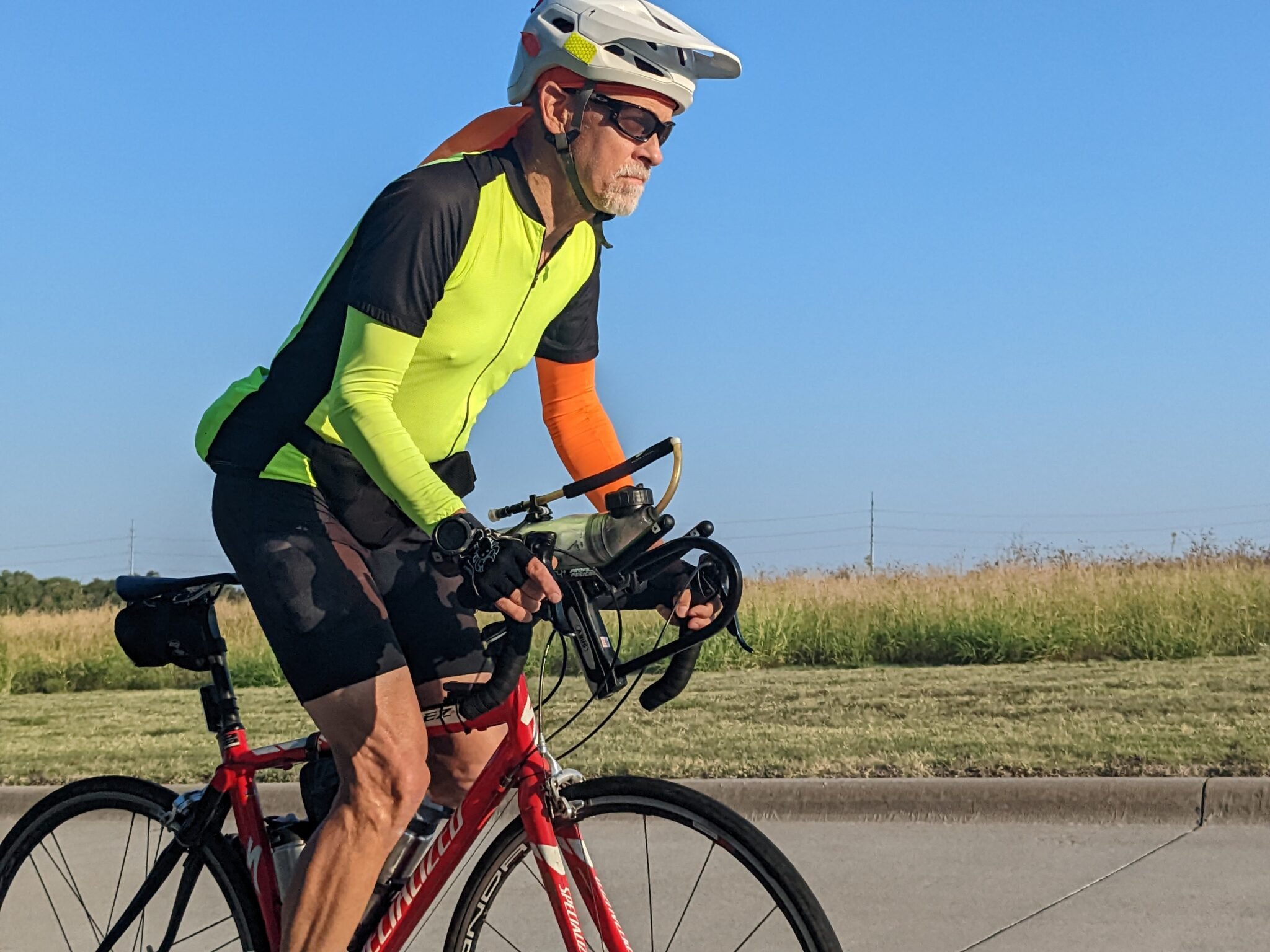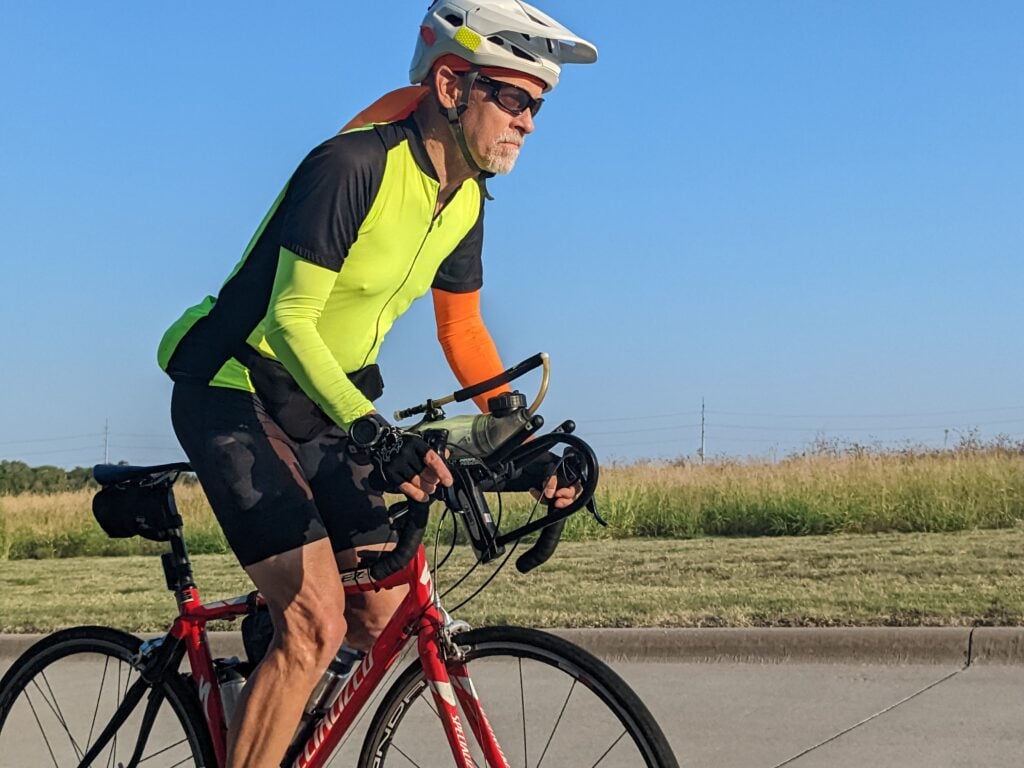 The bike portion, which I started on October 5th, wasn't as bad. Since I wanted to stretch out the cycling days to last until October 15th, I rode only 56 miles a day or as close to it as I could get. That allowed me to get in most of a day's work in the afternoons and evenings. The biggest challenge was dealing with persistent soreness where my butt met the saddle. Over time, I developed a bit of a side-saddle posture to give my sit-bones a rest, but in the end, nothing helped except building up calluses, and after a while I got used to it.
Toward the beginning of the bike days, I had company on various days: Rick Vanglish, who had trained as my local kayaker during my preparation for the Key West marathon swim, as well as long-time friend and Type 1 super-athlete Jeff Kilarski and my swim and bike "buddha", Scott Conway. I call Scott that because he always seems to have a calm, balanced view of whatever training issue has me off my rocker at any given moment. Scott has an eye for the natural beauty of the outdoors, and he was the one who took that great action photo on the bike, above on the left.
The rest of the bike days except the last were pretty much a case of "show-up-and-get-it-done." I rode a handful of routes with which I was already familiar and occasionally explored a bit just to vary things up.
I found that I didn't need to fuel as often as expected, perhaps because I self-consciously dialed back the pace or maybe had just gotten conditioned to riding more efficiently, but it made for a good riding experience, and I was proud, especially near the end, to be averaging 13 mph including breaks and traffic stops. I was especially grateful for the solid week of training going into the American Diabetes Association's Texas Tour de Cure, as the course was quite hilly and challenging, at least to me, after 9 days of riding.
During my rides, I found myself using a mixture of Honey Stinger gummies, Rice Krispie treats, and some homemade granola, nuts, and cheese for fuel. I usually took a slightly longer "lunch" break at the turnaround at 28 miles, and as I ate, I kept imagining that somewhere across the ocean, some kindred-spirit Frenchman was eating nuts and cheese while out in the countryside riding his bike!
All that said, my butt was grateful to put an end to the cycling. Leslie says that at one point, I was riding my bike in my sleep. I don't doubt it.
And I am so glad she took that photo of me holding my bike while I could still raise my arms. 🙂
The run portion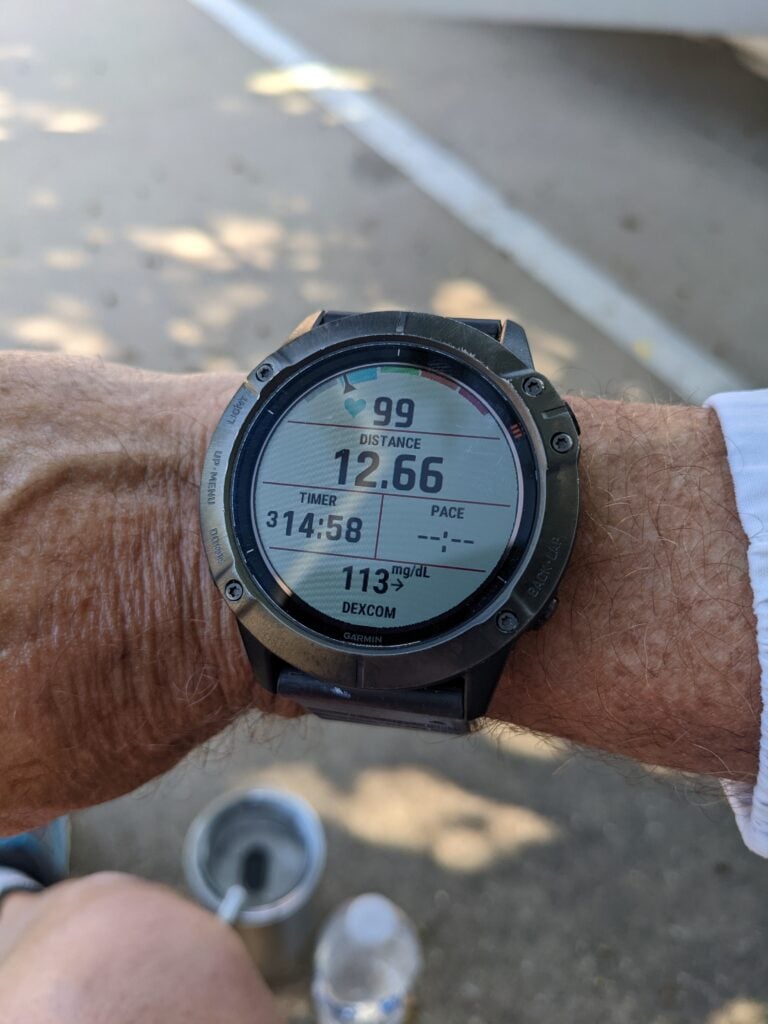 The run was familiar territory for me. I ran a modified version of the 31-mile hill training route I had used preparing for my USA run, with 2 extra miles added at the end to round the day's total up to 33.
For the first few days, I could never seem to get my watch to record the same number of miles and found myself adding little parking lot loops or running past my house to get the miles to come out right. Finally, I settled on a route that followed a bike path past my normal turnoff point toward home and up to a neighborhood that had a long street that would allow me to cut back toward home in time to get in the necessary miles.
During the run, I had more of my homemade granola for breakfast, and half a cup with low-carb milk usually lasted me about 7 miles. I hydrated with lemonade and fueled when I needed to, usually at convenient stopping points like a CVS along the route a shady spot next to a familiar apartment complex, or a park just a few miles from home. I ran at a relaxed pace, usually around 12:00 min/mile moving pace, since I had to do this for 4 days and I had learned from the USA run to "leave a little in the tank" each day. Though my sugars were usually around 150 mg/dl, I treated myself regularly to a donut at mile 21 and a chocolate milk at mile 26, just to keep the miles from becoming a grind. I was grateful for those moments, and they improved my mood.
My feet held up pretty well until the last two days, when I had to switch from my Inov-8 RoadClaw 275s to a pair of Brooks Transcends that gave me a little more toe room and were kinder to the one developing blister I had.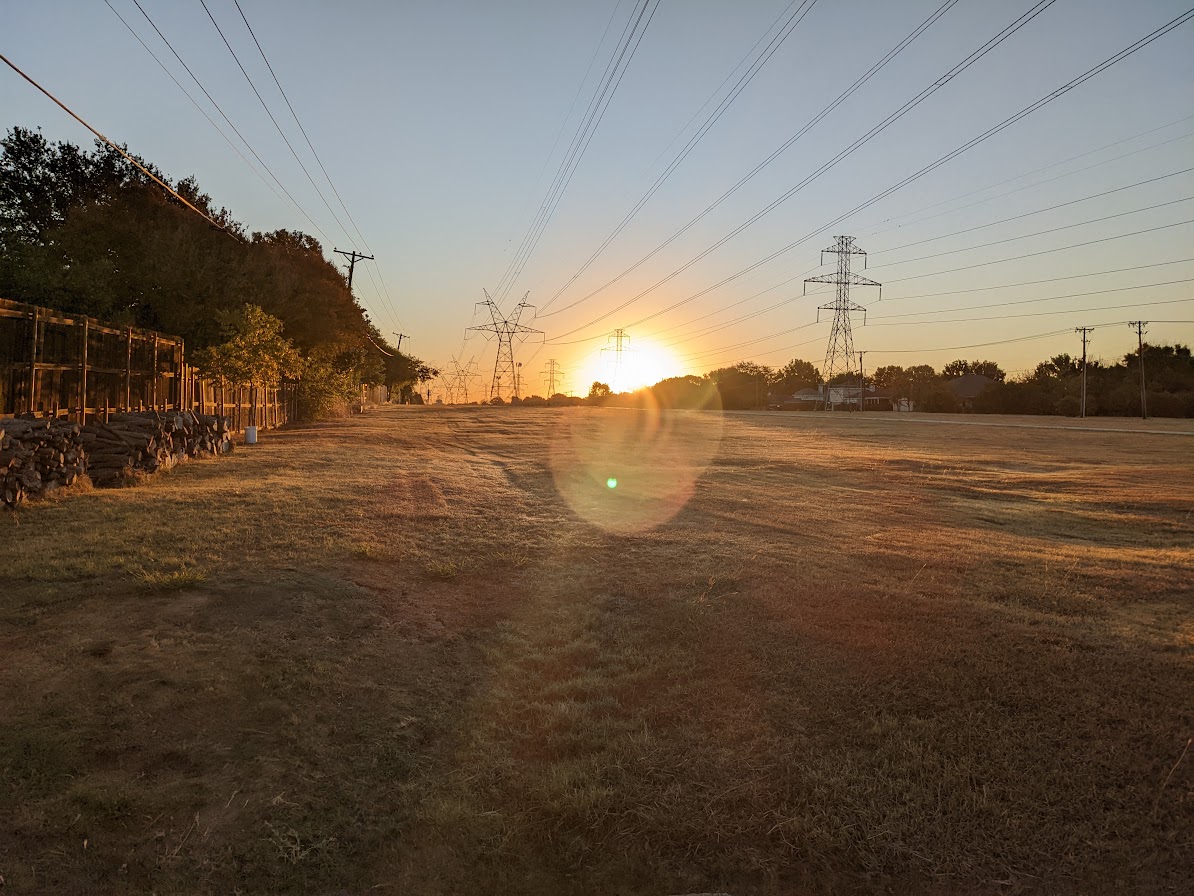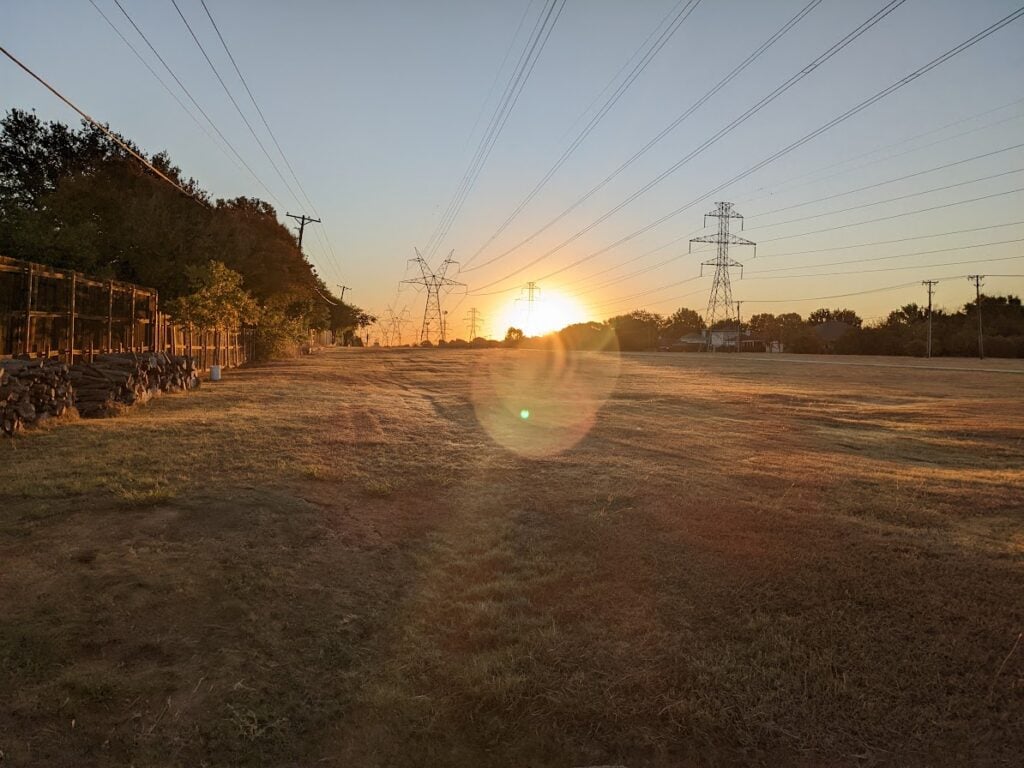 Concluding comments
Overall, it was a good event. I discovered that I'm horribly slow on super long open water swims when there's no tidal assist and no finish line clock hanging over my head. Gotta work on that!
The sunrises were marvelous, as were the surprise lunch visits from Leslie during the bike and run portions of the event.
I feel like there's some room for me to get better on the bike, and at some point I'll probably put in some time on Zwift during the winter to stay conditioned.
The running…I'm comfortable with. I'm not fast, and I know that…but then again, I'm fast enough. There was one hill on my route that I always looked forward to ascending without stopping. It was perhaps the most enjoyable part of the event to get to the top and congratulate myself on the little victories that make up the big ones.
I also think back on what I learned from the challenge:
That to be competitive enough to finish a "real" event, I need to work on both speed and endurance while managing to get adequate sleep and recover fully. But that is the story of my life.
That I am capable of attending adequately to the details of a long multisport event to complete it–but how quickly? That remains the question. My swim time is still too slow to finish the full 12.5 miles of Key West on time in June.
That fueling needs change over time as I gain strength and efficiency. That's good to be aware of as I tend to over-fuel sometimes (still afraid of those lows, I guess).
That there is always something out there that hasn't been done–at least by me–and that the challenge in front of me is really the only one that matters at the moment. The rest will figure itself out.
I feel like it's good for me to keep pushing myself to do something that's outside my comfort zone so that I can find out what I'm capable of before it comes time to dial it all back.
And that day will come.
But that day is not today.