The #T1Determined Run Across Iowa
June 3 - 10, 2018
The Plan: Run The World's Longest Relay Race -- Solo.
At 339 miles -- from the banks of the Missouri River in Sioux City, IA to the banks of the Mississippi River in Dubuque, IA -- RelayIowa is the world's longest relay course. (And they've never had a T1D relay team. Just saying. In case someone wants to start one.)
I plan to run every step of it myself, with my wife driving our support vehicle stocked with water, food, sunscreen and all the other essentials -- plus insulin, glucagon and all my supplies for my Animas Vibe insulin pump (soon to become a Medtronic 670G, since Animas has gone out of business),  Dexcom CGMS, Contour Next Link meter and a LOT of Skin Tac and Nexcare waterproof bandages to keep stuff attached no matter how much I sweat.
Calling All T1D's in Iowa!
I'll be passing through all the towns listed below and already have plans to meet up with local T1's in several places.
Get in touch if you'd like to coordinate -- it would make my day!
And if you want to run or walk with me, whether it's a quarter-mile or all day, that's even better.
When you cover this much distance, you don't do it at a marathon pace -- so you don't need to be a marathoner to join in!
Just remember to bring a cap, bottle of water and something to treat a low in case you need it.
The Route from Sioux City, IA to Dubuque, IA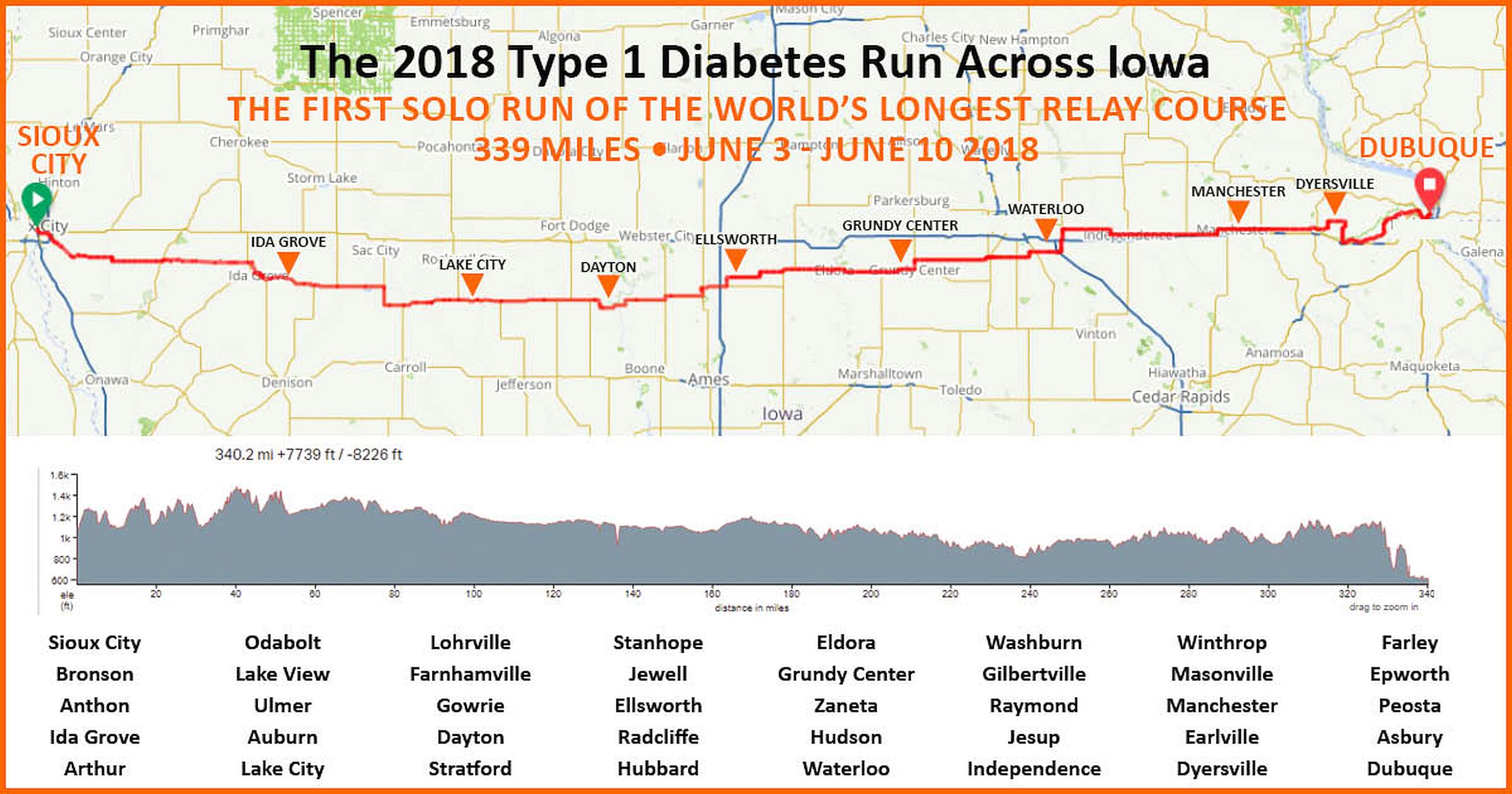 See the T1Determined Run Across Iowa Route on RideWithGPS
Sioux City
Bronson
Anthon
Ida Grove
Arthur
Odabolt
Lake View
Ulmer
Auburn
Lake City
Lohrville
Farnhamville
Gowrie
Dayton
Stratford
Stanhope
Jewell
Ellsworth
Radcliffe
Hubbard
Eldora
Grundy Center
Zaneta
Hudson
Waterloo
Washburn
Gilbertville
Raymond
Jesup
Independence
Winthrop
Masonville
Manchester
Earlville
Dyersville
Farley
Epworth
Peosta
Asbury
Dubuque