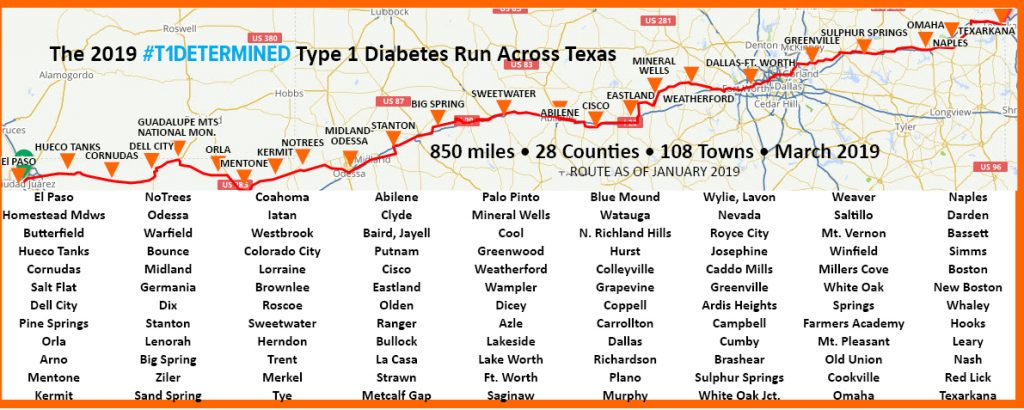 What Goes Into Planning an Epic Run: The Route
As I write this, the ink is still drying on my printed cue sheet for the 400+ turns, milestones, and stops on the 26-day, 850-mile Type 1 Diabetes Run Across Texas that my wife (and crew chief) and I are preparing to run in March 2019.
We'll gather at the starting point at 6 AM in time for a 7 AM start on Sunday, March 24th at San Jacinto Square in downtown El Paso, right around sunup; and finishes around 4 PM on Thursday, April 18 at Texarkana, TX City Hall, before close of business.
It's our hope that by leaving at sunup on a Sunday, we'll avoid most of the traffic headed out of town on Montana Avenue, which quickly fades into US-180 / US-62 and gradually ascends past Butterfield Meadows, Hueco Tanks, and Cornudas, toward Guadalupe Pass and through oilfield country, after which most of the run is downhill.
The logistics of traversing the 250 miles of Chihuahuan Desert highways with very few opportunities to stop for food, water, or restroom breaks dictates a lot of what our first week of running will look like. We'll have to carry all our own food and water, electrolytes, our own cooking and toilet facilities, and our own bedding and hygiene.
Planning and provisioning a long distance run is kind of like a camping trip where you never actually get to stop and make camp for more than a few hours before trekking on foot to the next campsite 35 miles away.
The Route
For the 223-mile Capital to Coast Relay Solo run, we had the advantage of using a route that had been developed over time by the race director. For the most part, that route traversed back roads, avoided dangerous stretches of highway except where they were the only choice. Since the route was designed as a relay, consideration had also been given to where one could reasonably pull over a few dozen passenger vans full of relay runners who were all making about the same progress; thus, relay team transfer points ("exchanges") tended to be in parking lots of businesses in small towns. For our solo team, they made perfect places to stop, take in a hot meal, and reconnoiter for the remaining portions of the day.
For my solo run of Relay Iowa, things were a little different. Iowa is mostly straight, hilly roads, and even the back roads (US-175) tend to be fairly busy highways if you're planning on taking a direct route. The most direct route across Iowa on safe roads is 339 miles; few relay runners have the time or the willpower to take on a longer race — and in fact, Relay Iowa was at one point the longest relay run in the world (recently another has cropped up that circumnavigates Europe).
339 miles of hot June sun and biting flies is enough for most people, but the roads were straight and quiet or had a wide shoulder. All in all, they were fairly runnable, and we had the luxury as before of running a route someone else had spent time thinking about.
Objective: run the longest route across Texas in the shortest time
For our 850-mile run across Texas, the objective was simple:
Take the longest distance across the state and traverse it in the shortest time possible without entering any other states.
We had no fixed finish time in mind, and no race director to tell us if we were on time or taking shortcuts, and picking a safe route was entirely up to our own judgment. Suddenly it was OUR problem.
We looked at several routes out of El Paso that ended in Texarkana. Some went along frontage roads to I-30, but the frontage was interrupted for 10 and 15 miles at a time, leaving only the actual shoulder of the Interstate and making that route option unsafe. We looked at a route through Central Texas that ended in Orange. That ended up being about 20 miles shorter, so it didn't really qualify as the longest distance route across the state.
So we went with the Texarkana route. The roads were nearly all paved, mostly safe, and traversable both by runner and chase vehicle.
Along that general corridor, when there were redundant route options, we considered the tradeoffs among:
Texas state highways usually took the most direct route over long distances, but had variable shoulders, tended to be 4+ lanes, and had higher speed limits.
The state's network of county roads were very quiet, often gravel or dirt, and often in disrepair or reclaimed by nature or nearby property owners.
"Farm to Market" roads (FM-###) were usually quiet, relatively direct, and often had wide shoulders and low speed limits to allow for slow-moving agricultural equipment.
Two-way Interstate frontage roads often doubled as repurposed local, state, or US highways, where we could see approaching traffic and never be very far from food and lodging.
Local roads in metropolitan areas that had sidewalks or multi-use paths.
More on our methodology for choosing a safe route here in our article about picking the safest roads for a cross-state or transcontinental run.
To keep the route as short as possible, we decided to follow the general route of roads parallel to the Interstate, a combination of 2-way Interstate frontage roads, US highways, Farm-to-Market, and county roads that kept us relatively close to civilization.
Documenting the Route for Printable Cues and GPS Navigation
We chose RideWithGPS to create the initial route because it was literally the one tool among a small number of third-party nav software vendors that could support an 850-mile, multi-hundred-point turn-by-turn route.
RideWithGPS allowed us space in the cues to store phone numbers, hours of operation, and Google short URLs to the locations of points of interest (POIs) such as food and lodging, along with screenshots of how the cues looked from the street.
This allowed us not only to print out the turn-by-turn I'd need to actually run the route, but provide spoken cues to my wife Leslie (the driver) so that she could drive ahead and mark turns or set up an aid station before I got there.
Our route took months of detailed planning, scouting trips, and constantly honing to keep the miles down and the route safe to run. More than once, we encountered roads that did not exist — yet, or any more, private roads, gated roads owned by the state forestry department, unpassable dirt paths through cornfields, and roads that looked fine in August but were washed out by mid-November. We encountered road constructions, 20-mile detours, and highways that were a lot busier in reality than they seemed to be on Google Street View.
In the end, we made some compromises. A short, limited number of stints on busy roads only during quiet early morning full-daylight hours, Farm-to-Market and two-way frontage where possible (clearest line of sight and best shoulder, plus lower speed limits), avoiding night running, and never allowing traffic at our backs.
Once we had determined such a route, we traced it meticulously through RideWithGPS, embellishing the built-in turn cues, custom cues, and our own points of interest with information obtained from our scouting trips, including dangerous bridge crossings, picnic areas, gas stations, roadside diners, and their hours of operation.
Points of Interest
RideWithGPS has two features of interest that we used extensively: Points of Interest (POIs) and the Cue Sheet.
Points of Interest are locations that are noteworthy but not actually on the route: for instance, a nearby hotel or grocery store. We took advantage of POIs to document the places we might stay or replenish supplies, and to mark areas where we'd need extra instruction regarding road conditions: for instance, one-way frontage roads, dangerous bridge crossings, or a lack of frontage road dictating a detour. Without those extra bits of information, we found in practice that it was easy to forget why we had chosen one particular route over another.
For each of these POIs (approximately 1500 of them along with approximately 450 turns), we attached an image of what the POI or turn looked like, so we'd recognize it from the road, and so when we clicked on the POI or turn (Control Point) in the RideWithGPS app, it would show us a preview of what we were looking for.
For hotel- and lodging-related POIs, we also included a screenshot from Google Maps showing the "hotel district" for each town, especially when there was more than one choice of lodging.
The Cue Sheet
Cues are noteworthy locations along the route. The difference between cues and POIs might seem academic, but cues are generated automatically (if automatic cue generation is turned on), and for an 850-mile route, it's very advantageous to have your turn-by-turns already written for you.
We removed some cues that made no sense, such as abundant instructions to continue straight, when we would not have thought to take a turn unless told to!
We also embellished the existing cues with descriptions of landmarks, so that instructions to "turn left on US-67" could be tied to something noticeable such as the presence of a yield or low bridge height sign just before the turn.
We added our own informative cues for gas stations / truck stops, picnic tables, grocery stores, restaurants, day start / end, and lodging that were on the route, across the street from the route, or within sight of the route, in order to take advantage of the opportunity to take a rest, refuel, or resupply.
Having done this, we ended up with a cue sheet with a little under 600 meaningful cues (with images); and having something to look forward to every few miles helped to break up the monotony of running the entire 850.
At that point, we had enough in the cue sheet and the POIs to make it usable both as a printed guide for the runner and an app-based route with annotated and verbalized cues for the driver.
The Spreadsheet
Once we had a relatively unchanging route in RideWithGPS, the next step was to export the cue sheet into an Excel-compatible format that would allow us to separate the route into runnable segments.
Restroom and meal stops were often the defining criterion for a "leg" of the run. Moreover, the route passed through a number of towns that existed in name only, and while that was of interest in promoting the large number of towns we passed through, there was very little to look forward to in those towns.
We ended up having to make several attempts at this, since we found we needed predictable patterns in the cues in order for Excel to be able to show filtered views of things like towns, lodging, and gas stations.
Our first draft of the route Spreadsheet simply identified the towns (counting only the ones worth stopping in) that we'd be passing through, and based on my estimated pace during training runs, when we'd end each day given the number of miles I was supposed to run in order to get to the next town that was both more than 25 miles from the last one and had lodging.
We discovered quickly that in west Texas, there was very little lodging in the first 250 miles. That stretch included some of the straightest, most desolate desert roads that had actually been paved. After leaving El Paso, we'd be staying in Air B&Bs for the next 3 nights, then a campground or rest stop, then a truck stop for two nights before we hit our first hotel opportunity, 30 miles off the route, in Pecos. For the most part, after that there was civilization, though one night we'd be spending in a truck stop in Baird, and another in a historical home in Strawn that was our only option within an hour's drive of the route.
Having laid out where we'd be spending each night and how long we'd likely be stopping for meals, we backed into how many miles I'd have to cover and how many hours it would take.
For the most part, following our plan of averaging around 33 miles a day, things worked out so that if I started running around sunrise — a time that to our advantage was 4 minutes earlier each day — I'd finish before sunset. For several of the long days (a criterion we arbitrarily set at 38 miles), we'd have to start an hour or two before sunrise or face running later in the evening and possibly not resting fully before the next day.
Having determined the time I'd be starting and ending each day, we next calculated a number we called "wiggle room", which represented the spare hours each day not taken by running and eating. Most of the time if was 2-3 hours, occasionally more. In one or two cases, the number was negative, meaning that any improvement in my pace during that day would buy back time to shower, tuck in early, or enjoy a less rushed meal.
In the end, much like the schedule for my run across Iowa, 26 days of running across Texas turned out to be the sum of not just the time running and sleeping, but all the little minutes spent walking, eating, and using the restroom.
Moreover, our second-to-last day would be our longest, and a dawn start in New Boston would have us arriving in Texarkana an hour or two before close of business. If we had any plans to meet with a news crew or city officials, we'd have to do it by 4 PM or lose some of the public impact of our epic finish.
Even without a fixed finish time, we felt urgency, and that went into every piece of our planning elsewhere.