The Gear
The Crew Vehicle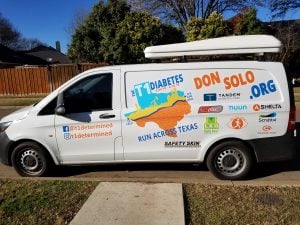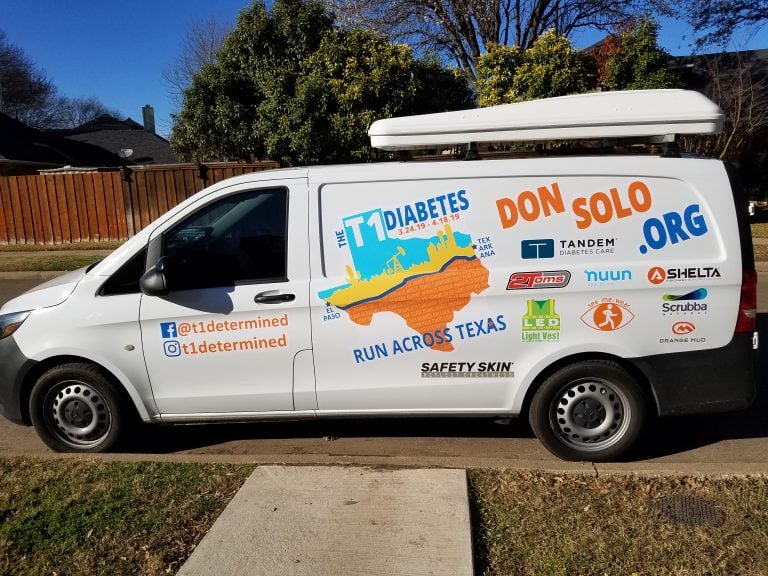 Our chase vehicle is a 2017 Mercedes Metris cargo van outfitted with L-track lashing rail, sound-deadening foam, and varnished birch decking, which we cut and fit to allow access to the D-rings on the floor. We bought the van used from a bankrupt lawn service business and upfitted it to be suitable for our purposes. At the time, it was a little above our budget but it helped that the seller was anxious to reclaim his investment in the vehicle. We had originally been looking at a Ford Transit Connect when we discovered that the Metris short wheelbase has a little turbocharged 4-cylinder engine that gets 25 mpg, has 1.5 more linear feet of storage than a Transit Connect, and still fits in a standard residential garage with 4.5 inches to spare.
We're counting on those 4.5 inches, we installed a Rhino Rack roof rack, which has a total mounted height of 4 inches, for mounting an Autohome Columbus Variant rooftop tent. 
The tent has the footprint of a "full"- / double-sized bed, slightly smaller than a queen, and sleeps two adults reasonably comfortably. In a pinch it could hold a third, provided everyone was family or close friends. It's got a battery-powered interior light, is pretty solidly weatherproof (except for high winds, I suppose), and stows itself inside a hard clamshell case when not in use. It has gas struts for self-deploying and is ready to occupy in less than 30 seconds — something we value.
Gear
Battle Born LiPO4 Auxiliary Battery.  We chose to go with the Battle Born 100A-hr (1200 watt-hr) lithium iron phosphate (LiPO4) deep cycle battery. Unlike a starter battery for your car, deep cycle batteries are designed to be nearly depleted before recharging and nearly fully recharge. They're considerably more expensive than a car battery but because they deliver a lot of power reliably (something you want in a motorhome, for instance, if you're not connected to the power grid) and charge quickly, they're usually worth the price.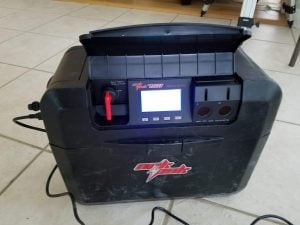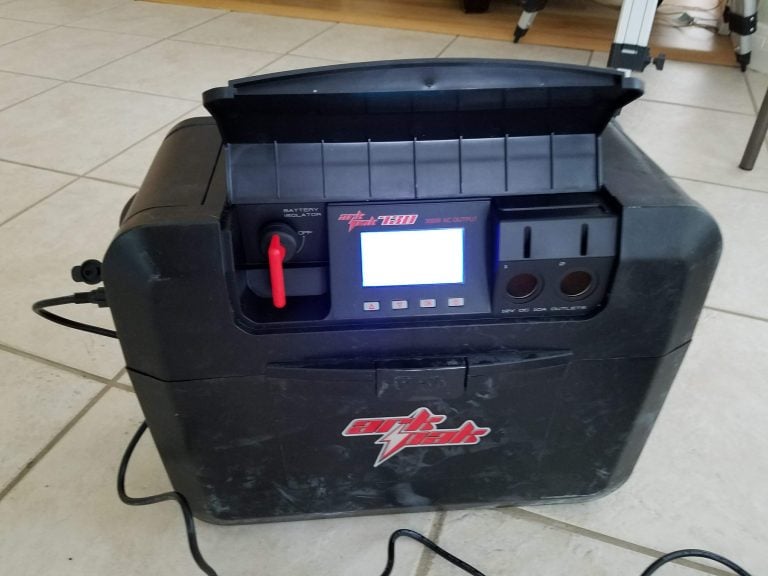 ArkPak Portable Battery Pack.  The ArkPak performs several important functions in relation to the deep cycle battery. First, it covers the terminals and connects them to more conventional means of tapping power in the battery, namely, a DC (car charger) power port, a current inverter (converts DC to AC), and a charging port on the front of the battery pack that allows you to "top off" the charge by connecting it to your car battery when your vehicle is running. It has charging cables for charging from both AC (outlet) and DC (car charger) power sources. It has a voltage isolator you can use to make absolutely certain that nothing in the vehicle is drawing power from the battery. It also comes with a power switch for the current inverter, so that if you don't actually have AC power devices plugged into the inverter, it avoids letting the inverter draw the 6W load that it puts on the battery even when not running; thereby increasing battery lifetime. When possible, we use low wattage DC devices and connect them to a DC power hub that fits into the DC power adapter and multiplies the number of available DC power sources. The ArkPak also comes with a couple of USB power adapter ports, but a good DC power hub can provide additional USB charging ports above and beyond that, and the best ones will allow you to power off the hub when you're not charging devices, again conserving battery power. When you have to power everything that feels like civilization off a 12V battery in your van, you get pretty miserly about conserving power — especially since we have not installed solar charging cells (yet) on our van.
We also carry an emergency battery "jump" pack similar to what AAA brings when you call them from the road with a dead battery, as well as an adapter cable for charging batteries from the typical RV power hookup found at campgrounds.
Dometic CFX 50W Electric Cooler / Refrigerator.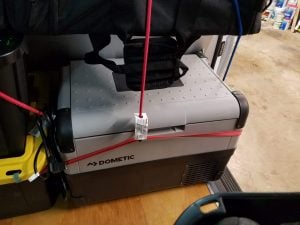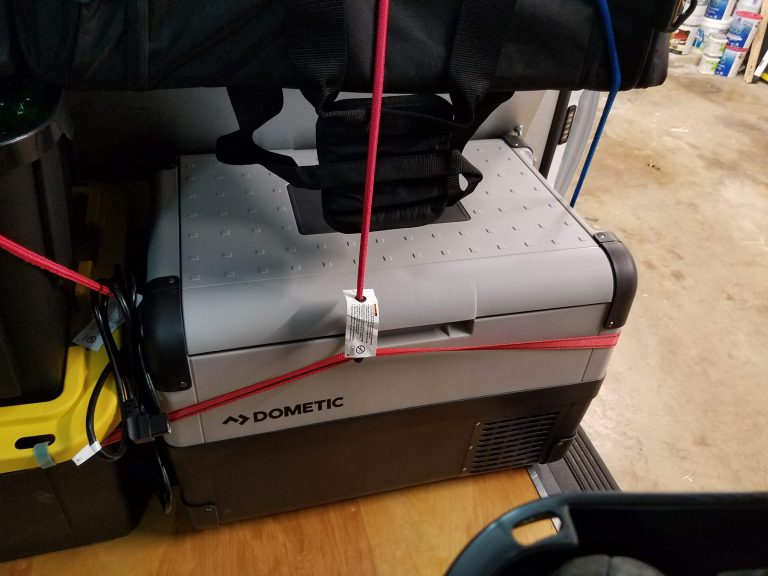 This compact, high-capacity, low-wattage refrigerator will keep food cold — not just cool, and without having to deal with "cooler soup" from constantly replenishing ice, which is difficult to do in west Texas, given the paucity of gas stations and grocery stores in the first 300 miles. It pulls about 50 watts (thus the name) when the compressor is running, and about a quarter of that when it's just connected and idling. From a 1200 watt-hr lithium deepcycle battery, that's not much of a load, and if it's the only thing drawing power in the chase vehicle, even with the lid open and the compressor running constantly, it takes 24 hours to drain the battery. In reality, since the compressor's not running constantly, the Battle Born will run the fridge for about 4 days without recharging.
You'll notice a chest cooler in the picture above. The Dometic is behind it. The chest cooler is to keep drinks cold and to provide a source of ice for filling my cooling bandana (see below) during hot runs.
Renetto folding canopy chairs.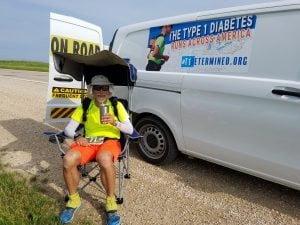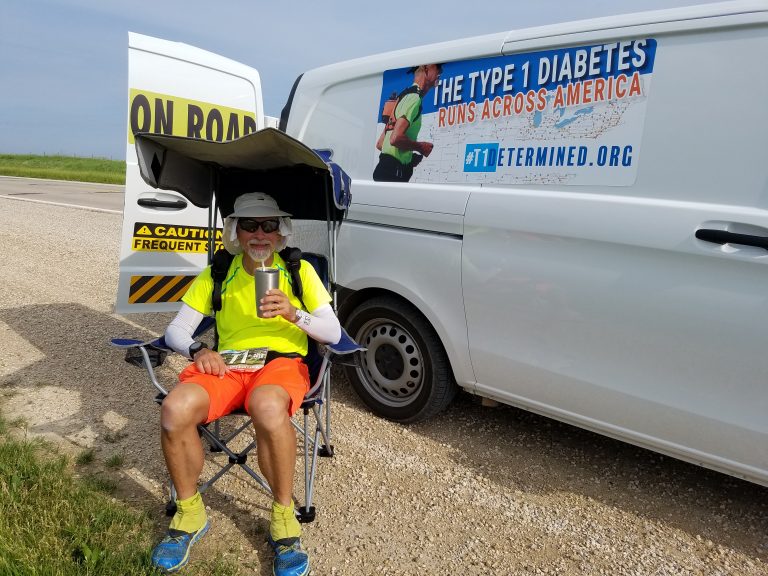 I'd be remiss if I didn't mention Renetto. They make a folding "tailgater" canopy chair that is tough as nails. I've used them again and again on impromptu roadside stops on hot, sunny stretches where there wasn't a single tree in sight. They are a godsend when you are trying to cool off and simply hydrating and wearing a hat isn't cutting it any more. Ours stows easily atop the passenger-side wheel well and sits in a J-brace attached to L-track (see below).
The Scrubba Wash Bag.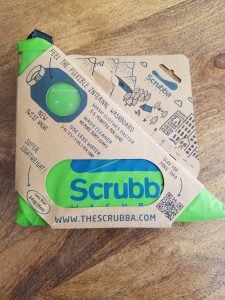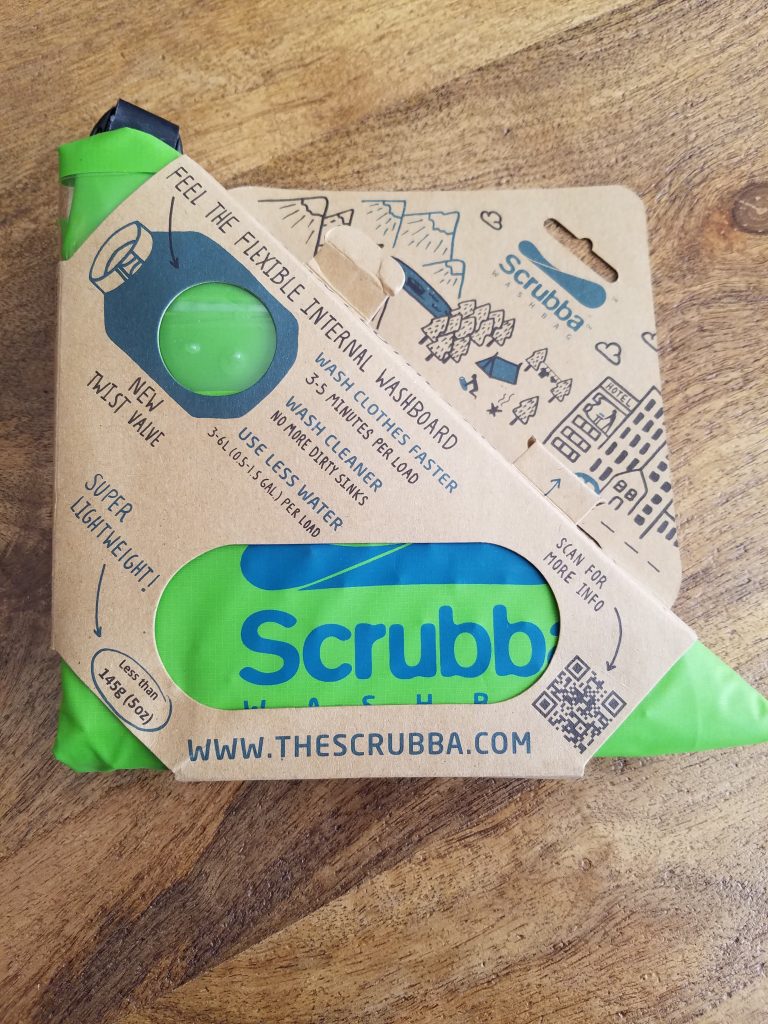 Remember those old National Geographic pictures of people beating clothes over a rock at the edge of a creek? Turns out they weren't so dumb. Take away the rock, add a travel-size laundry detergent packet, and replace the rock with a sealable, durable plastic / rubber sack with bumps on the inside and a valve for venting excess air. Put your clothes in the bag, knead it like pizza, and out come clean clothes. Uses very little water (one 16-oz. bottled water is enough) so it has a very low gray water waste profile.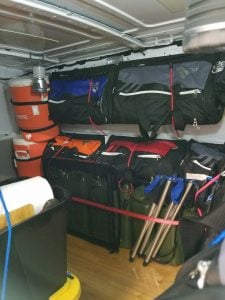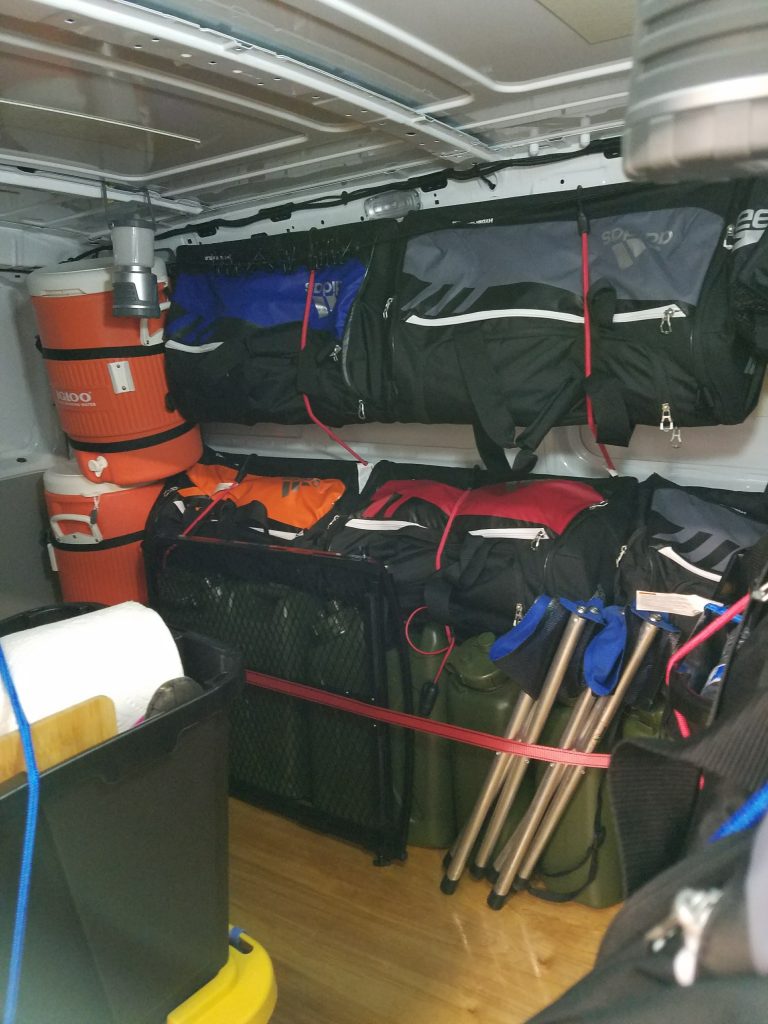 We took 9 Adidas Team Issue duffel bags and grommeted the bottoms of them so we could hang them off L-track lashing rail (made by US Cargo Control) inside the crew van, creating "soft cabinets" where we could store clothing, medical supplies, first aid, hygiene, and safety gear. We color coded and tagged the bags so we could locate contents easily. Red bags were for first aid, blue bags for night visibility gear, and orange bags for daytime hot weather gear. It worked pretty well.
Biffy Bags. For #2, these are #1. 🙂 If you use a porta-toilet setup, as you might with a camper, you have to deal with black water disposal and unsanitary sloshing liquid in your vehicle. It makes it much more difficult to cook and sleep in the same space unless you have a full-on camper — which we don't. Biffy bags provide a moisture absorbing, odor-deterrent alternative that seals into its own zip locking disposal bag. Those bags can then be placed in the regular trash and disposed of in a trash can along the route, which is something even the most primitive roadside pull-offs have.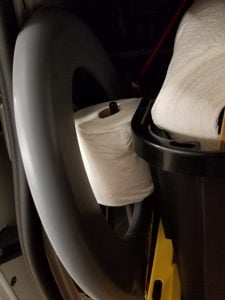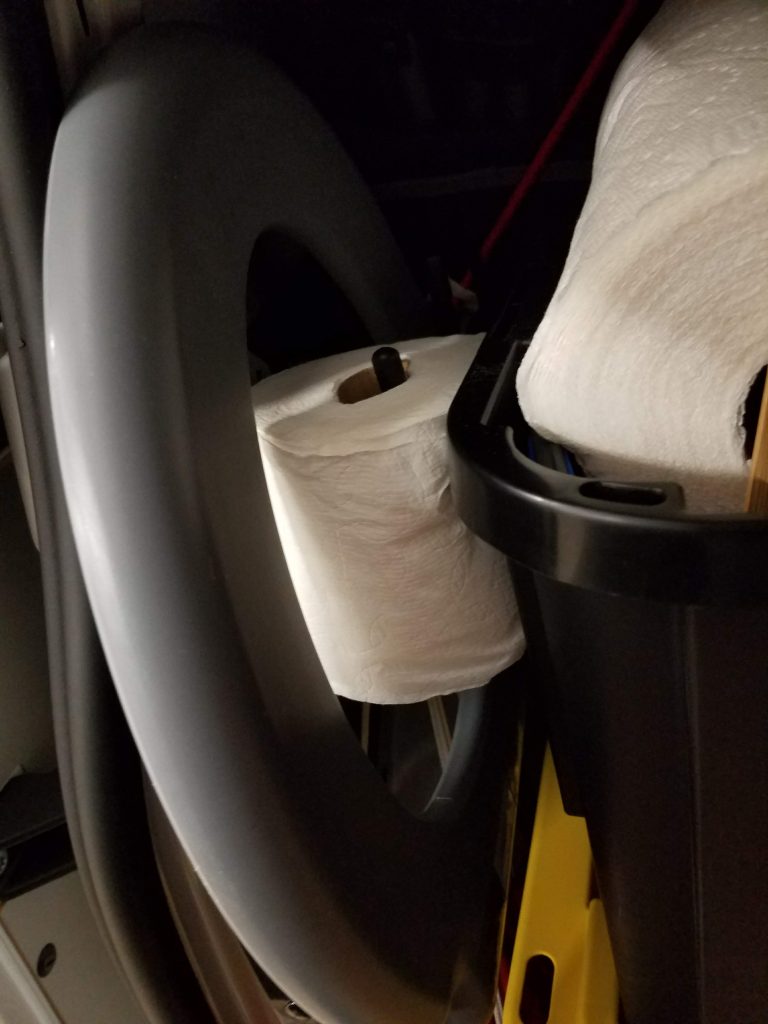 Our van setup also includes a wheel-mountable picnic table, six "jerry cans" of clean water, two 5-gallon coolers for electrolyte drink, couple of folding 3-legged camp stools, a folding toilet, a thick yoga mat (for quick naps in parks), a low wattage DC-powered fan, emergency road lighting, and hi-vis orange safety cones, plus Handi-wipes, toilet paper, paper towels, and disposable cutlery, plus two large bins for shelf-stable food.
Running Gear
I'm not extremely trend-conscious when it comes to shoes, running gear, and that kind of stuff. I care more about running without pain or injury.
And after hundreds of miles on the road, little things can bother you. So let me start with what I don't care about and don't like. Then it's just a matter of backing into what ISN'T that.
I don't care about stabilization (didn't know my feet were unstable), pronation, or heel drop unless I'm actually feeling the consequences and it hurts. I don't really care about how heavy my shoes are or how fast I run, as I'm doing it all day. I'm not trying to optimize my hydration or nutrition or any of that. I don't need all my nutrition orthorexically balanced and packed into the minimum space possible. I don't like stuff that feels heavy, tight, or like it's getting in the way. I don't like electronic gear that sucks a lot of battery power, and I don't like dim safety lights or non-reflecting, low-vis clothing. I don't want thin-soled racing flats, or spongy soles unless they can take a repeated beating on 500 miles of asphalt.
I have one goal: run very long distances without getting sick, getting hurt, or rubbing a raw spot in something tender. After that, it's all fairly minor stuff.
My go-to gear isn't about speed or fashion; it's a reflection of those desires to remove little annoyances that turn into big problems over long distances.
Below,  I'll tell you below why I like each one so much.
Shelta Hats Raptor 2 desert running hat with Kalahari neck flap. This is a stiff-brim lightweight running hat that looks a like the love child of Crocodile Dundee and the French Foreign Legion. It has an adjustable neck strap that can be threaded through a hold in the back of the hat when it's not windy. It has a "secret pocket" in the front that can hold a gel, car keys, or similar. And it has a huge removable flap in the rear to keep the sun off your neck. The flap actually attaches in a fashion similar to the neck strap — namely by threading fastening points through grommets — so that you can take the flap off OR adjust it to be a bandana when there's dust in your face. It's incredibly breathable as well, which makes running in the heat pretty forgiving.
Solumbra Ultra Athlete desert running shirt. This is basically a double-layer nylon long sleeve white shirt. It's designed to be work at temperatures above body temp, where the whole concept of wicking and evaporation no longer works since your body is a heat sink. The two-layer long sleeves keep solar radiation from cooking and burning your arms, reflect a great deal of heat off your body, and trap the remaining heat in between two layers of fabric where it rises up your arms and out the chest / neck area using a principle known as a "heat chimney." This is the same principle used to ventilate restroom facilities when there's no power to blow hot air out of the room. It's quiet effective, and in my experience, it will keep you relatively cool up to around 110-112 degrees F. Solumbra also bakes a cap has a broad brim that keeps sunlight out of your eyes, especially at dawn / dusk when the sun is low in the sky, plus a "Kalahari" flap covering the back of your neck. However, unlike the shirt, the cap runs a tad hot and has no cinch strap at the neck, so it tends to blow off when I'm running on the shoulder of a highway.  Up until recently, I've been alternating between the Solumbra hat a desert cap from Outdoor Research, and an old washable running hat from REI. No single had seems to do the job, which is why I switched to Shelta. But this would be my 2nd choice after that.
Cheap souvenir head towels / transition towels. I generally pick these up from sprint triathlons as souvenirs, but the best ones I got were from the Texas Beef Council. Unlike a lot of micro-fiber towels, these have the breathable open-fabric texture of a dish towel and do a good job of bleeding off heat through evaporation, and they retain ice water for a good long time.
ZombieRunner cooling neckerchiefs.  The idea is that you fill small Ziploc baggies with ice and drop then through the side-holes into a pocket that rests on your neck. They're incredibly effective! The website is a little old-school, but that's because these are made by real people who are actually obsessed about keeping people's necks cool. Pro tip: wear this UNDER your shirt, not over it, and it will not only keep you cooler, but it also won't bounce as much. UPDATE: Unfortunately, it looks like ZombieRunner doesn't make these neckerchiefs any more — they seem to be into selling coffee. Unfortunately, that's the last thing I need on an epic run.
Naked Running Band. For a long time, I have been in search of a waistpack or something similar that would allow me easy access to my glucose meter and lancing device, test strips, ID, phone, and a place to put gloves, arm warmers, plus fuel and the little bit of trash it left behind after consumed. Most of the packs I looked at — for instance the SPI Belt, seemed to work on the assumption that I wouldn't overload them! The Naked Running Band fits like a cummerbund, and is VERY roll-resistant. You can stuff it full of practically everything short of a giant cartoon hammer, and it will make room.
Garmin InReach personal tracker / emergency locator beacon.  Garmin actually makes multiple models. Mine is the SE, which provides subscription-based two-way satellite base global messaging. It's a bit like texting on a satellite phone, and all that that implies. It's fairly expensive to use, but Garmin lets you dial back the accuracy (GPS sampling frequency) during periods you're not actively using the device. Then when you conduct your epic event, you upgrade your subscription to the most accurate real-time location tracking. One of my greatest fears on super-long runs is losing communication with Leslie and the chase van out in the middle of nowhere, where the nearest cell tower is many, many miles away. It has an SOS button that summons emergency crews (button press has to be confirmed, however). I've tried cheaper alternatives with mixed success. We knew this was the right choice when, during the Capital to Coast Run, Leslie made a side trip to get ice just as I was running into Sinton, TX. Temperatures were over 100 degrees F, I was running low on water, and the locational tracker app on my cell phone shut off to preserve battery power. Then my cell phone died, and the two backup batteries I had brought also failed. My InReach was "Plan C." The point is, it worked. I sometimes call the InReach the "Magic Device of Helicopter Summoning," because it will make MedEvac helicopters appear if you press the SOS button. Seriously. Do not press this button unless you know how much rides in a helicopter actually cost. 🙂
Orange Mud single and double-barrel HydraQuiver. This is an awesome ultra hydration vest created by a guy who is actually a long distance runner and wears his own product. The double-barrel holds two filled 25-oz bottles. I've tried hydration bladders, and the water in them gets pretty skunky after it warms up. Bladders are hard to change out without a big ritual of emptying and refilling. The other factor with bladders is that they cling to your back and don't allow you to bleed off heat. The HydraQuiver holds bottles, which are easy to change out or refill, and the vest makes an "X" pattern on your back, letting heat escape from around your shoulder blades. The load rests a bit high on your shoulders, where it balances perfectly and avoids the postural discomfort of carrying water on your middle back, lower back or chest. It has two elastic pockets for storing gels or a cell phone. I usually put a spare pair of glasses or gels in one and my InReach in the other. It also has a small zipper pocket where you can put ID, a pair of gloves, keys, or similar small items. The Orange Mud vests are super light (comparable to an Ultimate Direction SJ Ultra), store more than the SJ, and come in high-vis colors as well as black. My favorite for crewed runs is the orange single-barrel HydraQuiver.
LED Light Vest. The LED Light Vest is a super-bright lightweight reflective AND illuminated safety vest originally designed for first responders. It is literally so bright that if your headlamp goes out during night running, you can run by its light. It has blinking and solid light modes for both the front (bright blue) and rear (red) lights. It makes a very small and breathable footprint on your torso so that unlike other safety vests, it doesn't feel like a rubber shirt. And while the NoxGear Tracer 360 is more lightweight, it's not nearly as visible as the LED Light Vest. It can be ordered with a 4-pack or a 6-pack of rechargeable AA-sized batteries that will last a good 10 hours. I cannot say enough good stuff about this vest. I am super paranoid about being hit by cards during night runs, and this vest can NOT be ignored. True story: I was finishing a run during the late evening a couple of summers ago, and it was so bright it made a neighbor lady's dog scream (not yelp or bark — actually scream) and jump up into her arms.
Safety Skin reflective body marker. This has to be the coolest thing I've ever seen. It's basically very similar to Body Glide but it's impregnated with zinc, so it's reflective. You draw on your exposed skin with a small stick of Safety Skin and you can't actually see that you put anything on. Then turn the lights off and shine a flashlight at it, and you look like a glowing stick figure. It really works! Check the picture above — the one with the LED Light Vest. That's Safety Skin on my legs.
Petzl NAO+ headlamp. This is a USB-rechargeable super-bright headlamp (750 lumens, about half the brightness of a car headlight) originally designed for spelunking, but used by runners and construction crews. It auto-dims when it detects the headlights of approaching cars (so you don't blind them), and has both bright-focused and dim-wide modes you can switch between. At the brightest setting, the headlamp lasts about 4 hours, and at the dimmer setting, 10 hours. You can switch the rechargeable batteries out, and in an emergency you can use ordinary batteries (not something it's easy to switch to in the dark, though). I love this headlamp. My only complaint is that the headlamp batteries charge very slowly, so it's important to ALWAYS have a spare battery pack on the charger in the chase van.
Coast FL85 headlamp. The Coast (formerly Coastal) headlamp has a high-intensity spread beam that seems to work better in fog than the Petzl. I'm not sure why. It uses ordinary AAA batteries, which it eats pretty voraciously at high intensity, and they can get VERY HOT if you leave the headlamp on all night. I like the fact that you don't have to charge it, though, and it's a lot more comfortable than the Petzl, also. I tend to switch between the two since the Petzl takes a while to charge. It's also VERY compact, so it's a great spare headlamp to have in the back pocket of your Naked Running Band.
Inov-8 Roadclaw running shoes.


 

OK, earlier, I may have implied that I wasn't picky about shoes. And I'm not what some people would call a shoe aficionado. But the type of running I do (multi-hundred miles on 95% asphalt, 5% gravel) is a bit unusual. I needed a fairly lightweight, comfortable running shoe with breathable uppers, reasonable cushioning (I dislike the over-cushioned, over-grabby trail shoes so many seem fond of, but typical marathoning running shoes sacrifice a tough sole for a lower weight), and hard rubber lugs than can take a punch from a sharp piece of gravel on a back road. Ideally, that would come in a single shoe. During my initial research, I narrowed my choices down to the Topo Ultrafly and the Inov-8 Roadclaw. The Roadclaw had a bigger toe box; interestingly, unlike Altras, the toe box room is vertical, not spread out like clown shoes. Also, the Roadclaws felt a bit more cushioned on the uppers, and since I was concerned about chafing, I went with the Roadclaws. I loved them so much that when I packed my 8 pairs of shoes for my run across Iowa, I ended up wearing the same pair of Roadclaws all 339 miles across the state. The manufacturing quality is fantastic. As you might expect, I value durability. And the nice thing about Roadclaws is that at least for now, they seem to be a bit of an undiscovered wonder, so they're not overpriced.

Brooks Transcend running shoes. (See photo above) To borrow a meme from The Most Interesting Man in the World, "I don't always switch running shoe brands, but when I do…" I have to admit, I think I kind of get why people like Hokas. They have a wide variety of shoes that are very cushioned both in the upper and the soles. I've tried them, and they're so cushioned that my feet get hot and my ankles tend to roll on the super-thick soles. To me, the Brooks Transcend is the answer to what Hoka was trying to accomplish — a super-comfy shoe that you can still run in when your feet hurt like hell from running the last 40 miles on blisters. I bought three pairs, each a size larger than the last, and when I know I have only 50 miles to go in a multi-hundred mile road race and I feel like I am running on stumps, I switch to my Transcends. They're also my go-to shoe for the long ride back from the finish line.
2Toms Sport Shield foot lubricant. 


 

This product is non-toxic, washes off with soap and water, yet… well the easy version is, it's like WD-40 for your feet. It even feels like it. It does a fantastic job of preventing friction inside your socks, which his usually what leads to blisters. 2Toms also makes blister treatment kits, massage rollers, colloidal pads for cushioning blisters, and a product called Butt Shield. You can guess that it does… but (pun intended), it does a really good job.

Wrightsock anti-blister socks.  After Sport Shield, the next best thing is to wear socks that are made up of two very thin layers rather than a single thick layer of fabric. Wrightsocks are breathable wicking fabric socks that are designed to allow the inner and outer layers of your sock to slip past each other when your feet strike the ground, rather than transferring the force of friction to the soles of your feet. A word, though: if you use foot lubricant and anti-blister socks, your feet will slide more in your shoes. You will almost certainly need to master the lace lock technique for tying your shoes. Here's a video.
Outdoor Research Sparkplug running gaiters. Gaiters protect your shoes from accumulating bits of dirt, seeds, grass, etc., through the uppers and ankle collars. I especially like this type and brand because it uses Velcro to fasten at the heel and there's a hook that fits over your most distant shoelace loop, near your toe. Most other gaiters are either custom-fit to a particular brand of shoe or they rely on an under-heel strap, which I typically wear out quickly on long runs.  Unfortunately OR has discontinued the Sparkplug, but a very close clone is Dirty Girl gaiters.  That's right, I wear women's gaiters. So sue me. Black with electric green lightning bolts, if you must know.

UPDATE: I've now found another gaiter manufacturer who makes the "2 point" (refers to the heel and lace attachment points) gaiters. Altra, whose gaiters were notorious for having the Velcro on the wrong side to fit on any shoe but an Altra, now make a gaiter that attaches to shoes with an ordinary Velcro strip facing out from the edge of the sole.  And Outdoor Research seems to have made a re-entry to the 2-point gaiter market with a model of "dew gaiters" (for running in wet grass in the early mornings).  Both are nice.

De Soto Skin Cooler 90 arm coolers and leg coolers.  The weave on these is similar to that on the old cloth canteen caps: it's designed to provide the greatest degree of cooling when slightly wet. So just when you're sweating and heating up, they are most effective. They are also SPF 90 (thus the 90 in the name) and help keep solar radiation off your arms. In combination with the convective / wicking cooling effects, your arms and legs feel like peppermint when you're running. At night, then tend to hold in heat and help regulate external body temperature to ease you into cool night runs.

UPDATE: One thing I've not liked about the DeSoto leg coolers has been the silicone thigh grip band, which makes welts form on my legs.  I FINALLY found a company, Iconic Sport, that makes unisex white del Sol leg coolers that use a multi-layered spandex leg grip similar to what you'd find on high-end tri shorts like the DeSoto 400-mile bike shorts.  As far as I can tell, the Iconic Sport del Sol is the ONLY leg cooler without a silicone grip. So if you're allergic to silicone (as I am) you'll be buying these.

Pearl Izumi neoprene running vest (for cold weather). Unfortunately, the model I like isn't made any more. I have been giving some serious thought to the Proviz Reflect 360 cycling vest, but I'd have to get a tailor to take off the sleeves and reattach them with zippers. The nice thing about Proviz's Reflect 360 line is that it's high-vis in the day and reflective at night, due to embedding of microscopic glass beads in the fabric. That also tends to hold in warmth for a bit longer, which was what I liked about the neoprene in my old PI vest.

UPDATE: At the 2019 American Diabetes Association's Tour de Cure DFW fundraising bike ride, one of the prizes for fundraising champions was a thin sleeveless cycling vest. It's not as nice as the Pearl Izumi, but it holds some heat on a cold day if worn under a jacket. And it was FREE.  Add that to the free face buffs they gave to people who raised $100 in the first 10 days of their fundraising campaign, and it starts to feel like the ADA should take up the business of equipping ultra runners.

Asics running tights and long-sleeve running shirts (cold weather). Just their regular lightweight tights. I tend to like to keep my legs a little under-warmed so that I have a large part of my body to vent heat from.

UPDATE: Just got my hands on some Sugoi Midzero leg warmers. While these have the grabby silicone band at the top that seems to leave raw-feeling welts on my legs, they're warm, and they… um… make it easier to relieve yourself on the side of the road without making a major production of pulling down tights only to spot a trucker cresting the hill behind you. BIG advantage.

The North Face eTip running gloves. It appears that the current model of The North Face eTip running gloves is considerably thicker than the ones I like.  I like running gloves that leave me a little manual dexterity and let me text my location to my wife when I make a brief stop — without taking my gloves off. I prefer to wear thinner running gloves with a wind mitten rather than wear thicker gloves, because it's been my experience that what makes your hands cold is having your fingers isolated from each other. It's to that end that as a backup, I got a pair of Army surplus trigger finger mitten liners (I call them sniper gloves), which separate the thumb and trigger finger from the rest of your hand while serving as a mitten for the "grip" fingers. Combined with wind mittens, they're pretty handy.

UPDATE: Patagonia makes some excellent e-tip style gloves that are actually a bit thinner and smoother than the North Face gloves, which lately have been running thicker and thicker. Big deal when you're wearing gloves under wind mitts and ski mittens. This is important to me as I have Reynaud's syndrome, in which temps in the 40's (Fahrenheit) provoke yellow fingers, a loss of feeling, and symptoms of frostbite that you'd normally not get until temps were in the 20s.

I also got some Outdoor Research Stormbound ski mitts. Now my fingers will stay pink!

InSport wind mittens (worn with the above). Sadly, these appear to have a been a one-time thing. They were great — super-thin, not meant to be worn by themselves but over gloves, to help preserve heat escaping from the fingers. Sugoi used to make a product call the Sugoi Versa Wind Mitt, and you can still find reviews from 2013, but alas, like the InSport, they appear to have been discontinued.

UPDATE: I now have a new favorite: Outdoor Research Revel wind shells / mitts. They do what the InSports used to do.

Oakley SplitJacket eyewear.  A couple of comments here. First, as I mentioned above, I'm not a big fan of things just because they're fashionable. At first, I steered away from Oakleys for this very reason. Then a diabetic skydiver friend of mine who just happened to run an eyewear shop let me have a go at these. Rather than listing features, I'll just say that what I like about them is that they keep every last little bit of stray sunlight and glare out of my face (you can get headaches after a while staring at shiny black asphalt for 12-15 hours), they've more than once protected my eyes from rocks thrown off trucks at 60 mph, and they are reasonably well vented to prevent fogging. Not fog-proof, mind you, and they won't help much if the humidity is above 80%. But they're a pretty good optical-grade option for running. The link above is to Dave's eyewear shop in Plano, TX. If you're local, do my friend a favor and stop by and say hi.
Suunto Ambit 3 Peak multisport watch. I like the Ambit 3 because you can adjust the GPS sensitivity (much like the InReach) to a relatively coarse sampling frequency to preserve battery life. With GPS turned on, this watch's charge will last between 2 and 5 days — at least that's what the reviews say. In practice, I've gotten about 70 miles of running out of a single charge, or about 26 hours; but it's far better than everything else I've tried.
UPDATE: Well, my Ambit 3 finally gave up the ghost — or rather… well, it's complicated.  It stopped in the middle of a run and insisted on a firmware update on the spot (good luck with that), then went to sleep until I got home and tried to synch it. It wouldn't synch, because Suunto is retiring the platform it synchs with. I finally got it awake again and synched long enough to move my workouts to my new watch, a Suunto 9 Baro.
SeeMeWear running shirt and windbreaker.  For reasons I can't comprehend, DayGlo colors seem to have gone out of style lately. I guess it's no longer fashionable to be visible at dawn. Thank God (and more specifically, Earle at SeeMeWear) for making something visible to run in. SeeMeWear's products feature an alternating hi-vis yellow and orange chevron pattern that is visible from at least half a mile at all times except nighttime. The fabric weight on the shirt is a little heavier than average, which means it's decent for cooler mornings and evenings where being a little warmer as well as visible is a nice combo. The fabric of the windbreaker tends to run a bit light, which is perfect when you're a bit too cold but you still need to bleed off body heat.