Your donations help T1Determined #keepgoing.
Pressing "Pause": Running the USA In The Age Of Quarantine
Simple—but not easy.
It probably comes as no surprise that having to pause–emphasis on PAUSE, not stop–a 100-day run across the USA that had been in the planning stages for nearly a year is no easy decision.
On March 23, 2020, after 51 days and 1261 miles on the road, my wife Leslie and I made the difficult call to pause the run in Tarzan, TX.
We'd had some inkling since the run started February 1, 2020, that things were changing around us. We'd been following the news about COVID-19. But since we were already pretty isolated except for the occasional pop-in to a convenience store for ice, snacks and bathrooms, we just kept up a protocol of staying away from people.
Before that, we had hoped to meet other Type 1 runners and take some selfies along the way. As a practical matter, that ended after we left Palm Springs, CA and civilization petered out to an occasional RV park in the middle of the desert, the long stretch past the shoe tree in the ghost town of Rice, CA, and the sand and straight roads leading to the lone gas station in Vidal, CA, before Parker AZ.
So it didn't strike us as that unusual to not see anyone. As we made our way across southern Arizona and New Mexico, the only people we ran into–and kept running into–were border patrol agents. At first they were a bit suspicious about who we were and what we were up to, but toward the end, they were chatting with us about relatives who had Type 1 and Type 2 diabetes, and how cool it was to see us doing this big run.
By May 9th, we had crossed through Guadalupe Pass and spent the night at the Pine Springs Safety Rest Station at McKittrick Ranch. I texted my dad to let him know we had made it through the narrow, mountainous roads in the pass and were going to spend the next night in Carlsbad, NM.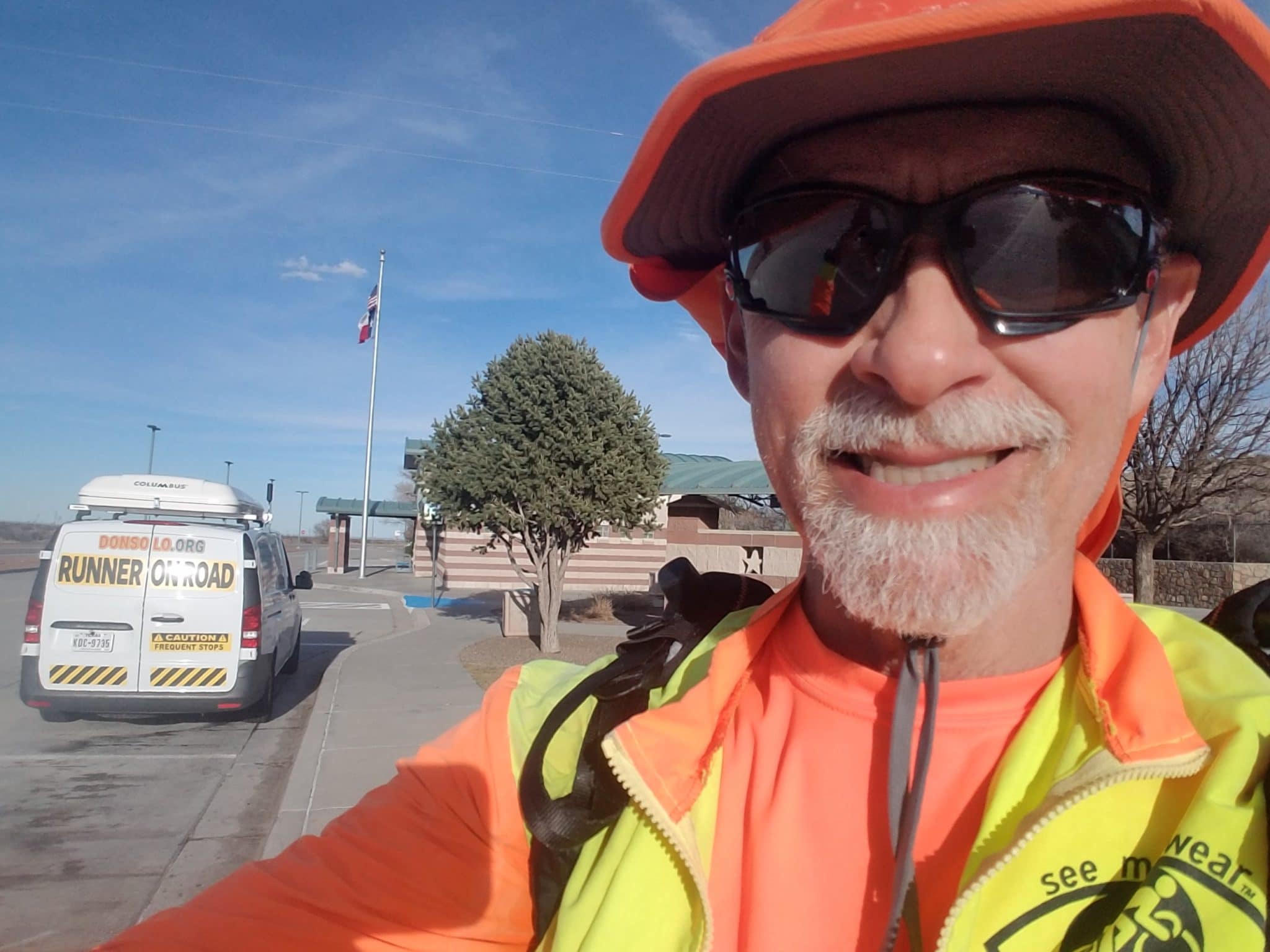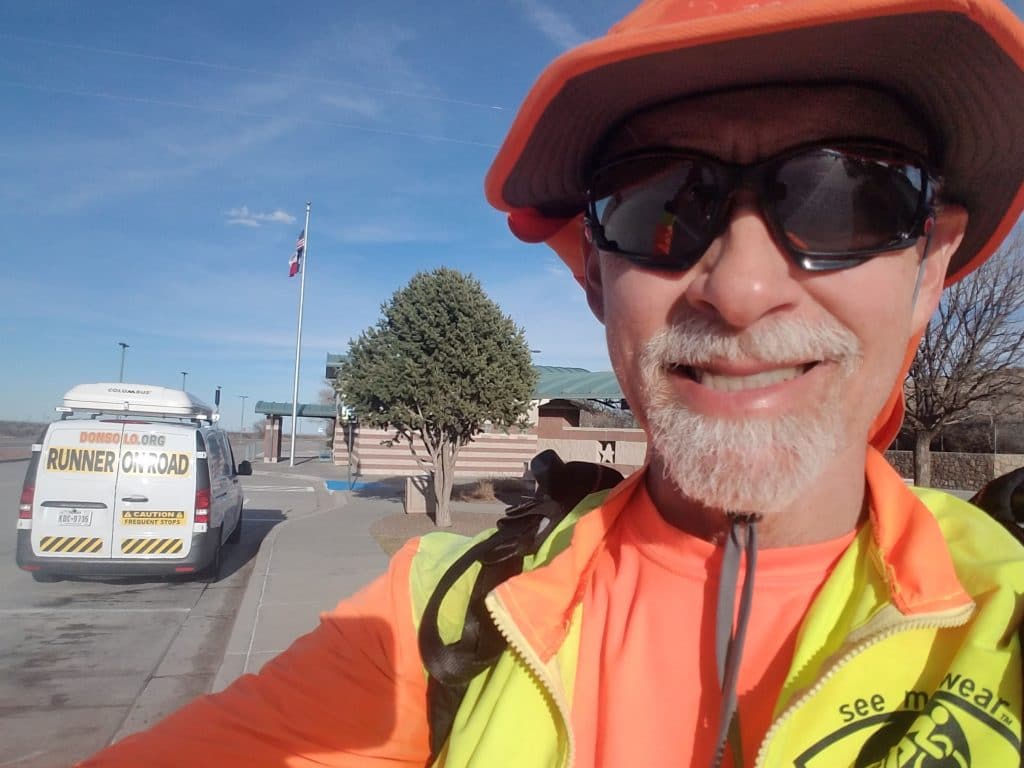 His reply was: "Get some rest. You deserve it."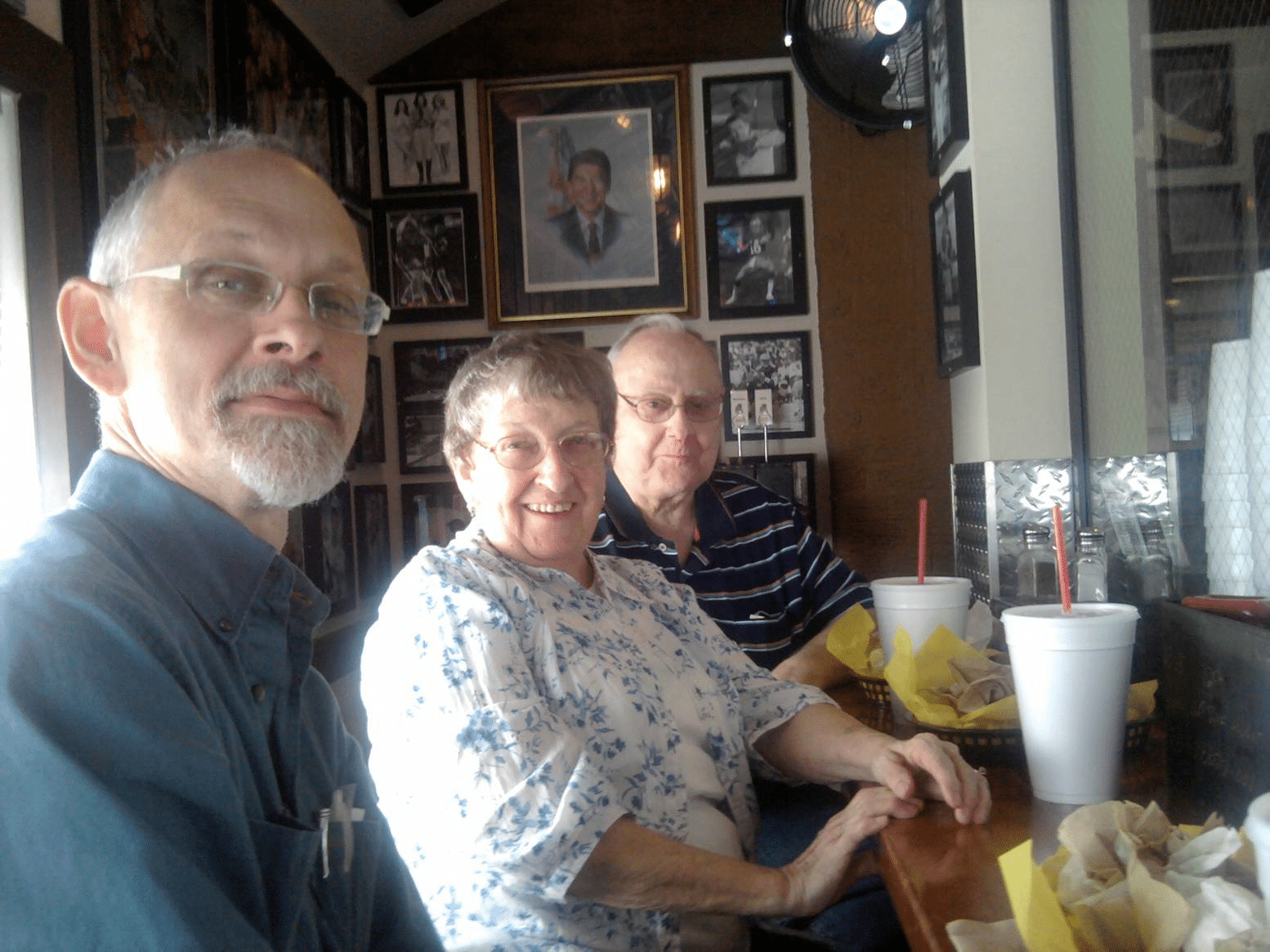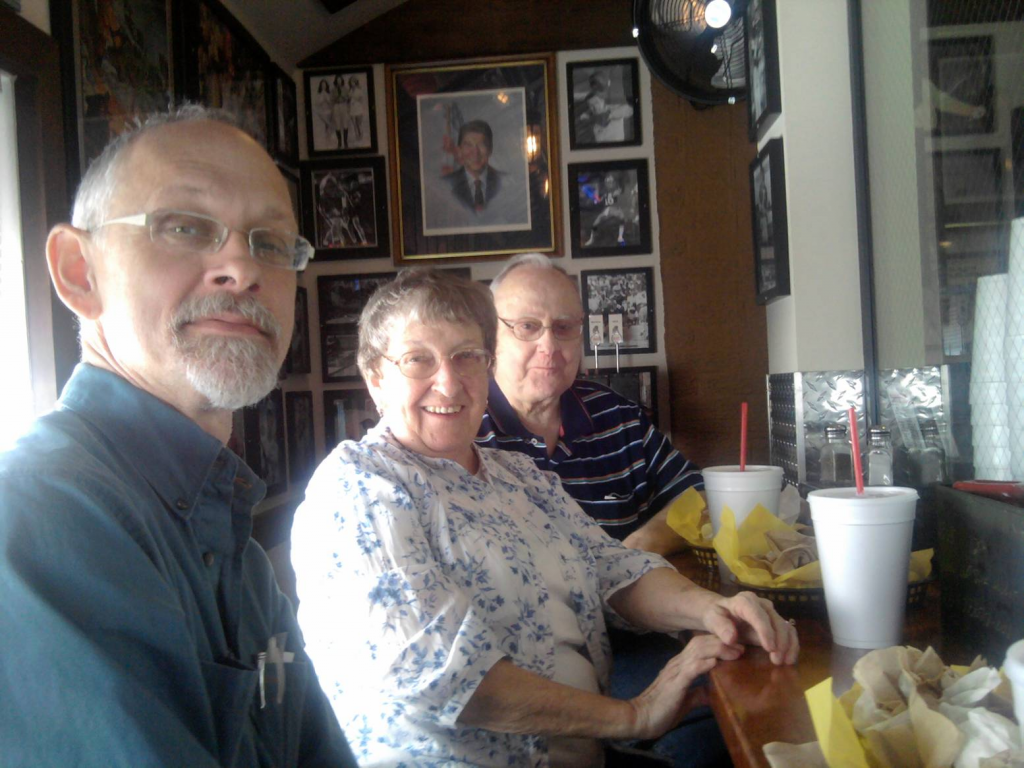 10 hours later, he passed away.
Needless to say, the run became a secondary priority. I wish to emphasize secondary–not last–because the Type 1 Diabetes Run Across America was something my dad believed in and it made him extremely proud. The disease he had been suffering from–idiopathic pulmonary fibrosis–had been slowly robbing him of his ability to breathe, and he had an inkling what was coming when his doctors took him off meds and just kept him using portable oxygen tanks.
Accordingly, he had told my mom and my brother and sisters that he wanted me to continue the run. I interpreted that to mean after I said goodbye.
I took most of the time on the drive back to my hometown of Greenwood, MS to grieve in the car. Once I got to Greenwood, seeing family and sharing memories underscored that I had made the right decision to return for his funeral.
COVID-19 had not penetrated very far into the US at that point, but we could tell things were not getting better. We kept an eye on it, returned to Carlsbad, and were back on track, making great time, by March 17.
When we checked into the hotel in Andrews, TX, though, things were different. The hotel seemed almost empty: the desk clerk estimated 10% occupancy. They were spacing out the few guests they had all over the property to avoid contact. The breakfast buffet was shut down and they were making guests sign agreements acknowledging the hotel's efforts and measures to keep the place as virus-free as possible. The only food we could order was take-out.
Our goal quickly changed from making it to Florida on time, which seemed increasingly unlikely given the concentrated population and viral outbreak prevailing there at the time, to just making it to I-20 in Texas, a couple hours west of Abilene. We figured we wouldn't encounter any people—and indeed, didn't—until we got closer to civilization.
When we reached Tarzan, TX, still north of I-20, we checked into a hotel 28 miles away in Big Spring, along the interstate. Things were getting weirder: we had reserved a queen double room and for the same price or less, the hotel checked us into a luxurious suite the size of a two-bedroom apartment.
It was clear that public health officials desperately wanted everyone, everywhere to stay home. Worried about restocking supplies, knowing that Dallas had just announced a #stayhome order, and wanting neither to contribute to the spread of infection nor become a victim of it, we made the call to pause and return to our home base in Plano, TX.
It was a long and difficult conversation, because neither of us wanted to be the one to call an indefinite pause to the event.
We were both afraid that if we paused we wouldn't continue.
We made each other a promise, and I made one quietly to my dad, that we would continue, and as soon as safely possible—just not right now.
The next morning, we stopped at HEB in Big Springs to restock, anticipating that it might be a challenge as we got closer to the Metroplex. Shelves were empty. One package of toilet paper. No canned vegetables except for corn and English peas. We got the last two boxes of rice, the last two cans of beans. We had to wait in line, six feet apart, to check out.
And this was in a town that was still relatively relaxed about COVID precautions. There was no doubt we had made the right call.
That was over two months ago.
I have to tell you, there are days I wake up that I wonder when "soon" will be.
I wonder about whether news stations will find it an inspiring story of tenacity—something I have a lot of, sometimes to a fault—or too little, too late. Will people on social media accuse me of spreading disease to their state, their town, or people we meet? The few transconners who have persisted on their runs during the COVID outbreak have indeed met those accusations.
I suspect there are no easy answers. I suspect we'll just have to choose a date when we feel it is safer—no longer "safe," but "safe enough." And I'm sorely aware that it's a serious choice and one that must be made carefully since, as someone with an autoimmune disease, I'm in a high-risk group.
A few times a week I train on the treadmill, outside if the weather's hot enough to make a 31-mile hill run challenging. Those days remind me that there will be an end to this pandemic, or at least a favorable wave, and then I'll be back on the road.
I have my GPS tracking beacon paused where I left off. I haven't deleted or uploaded the workouts from my GPS watch, in hopes of continuing them soon. I've unloaded the van, but I've left my gear on the floor for the day I need to load it back in.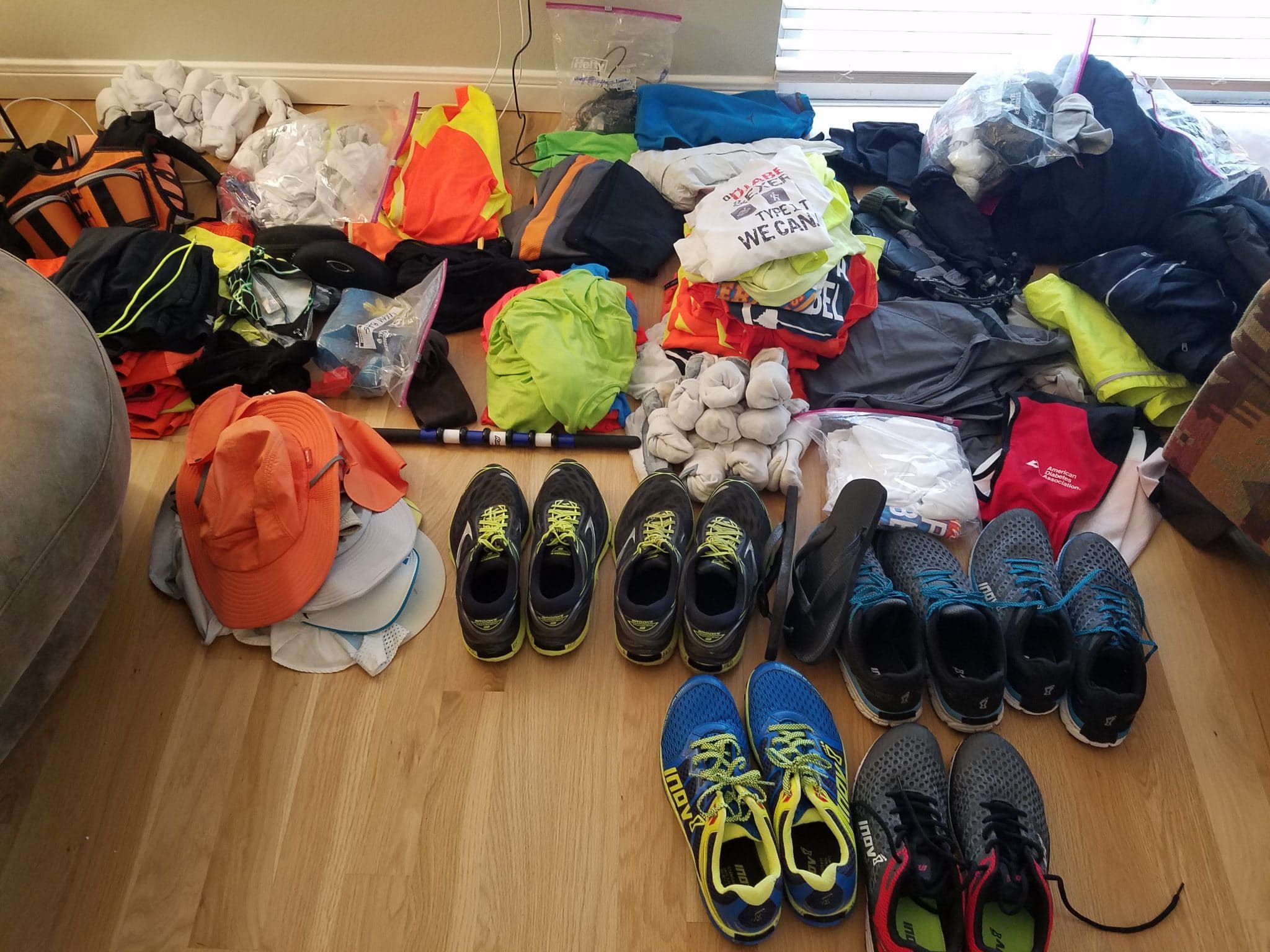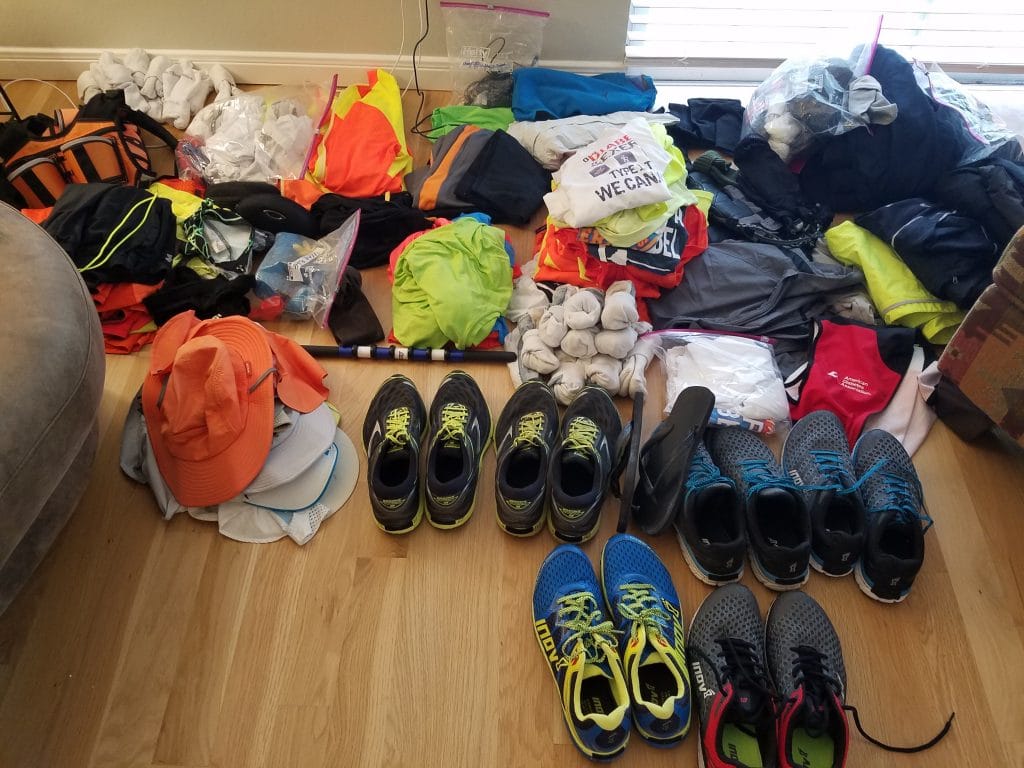 We're watching outbreak data online. We're running weather forecasts for a range of dates, assuming a June or July resumption of running. I may portion the run into safer sections, and run those sections individually as conditions improve. Perhaps I'll make it to somewhere between DFW and eastern Arkansas by late summer. We continue to gauge people's behavior and the balance between fear and hope.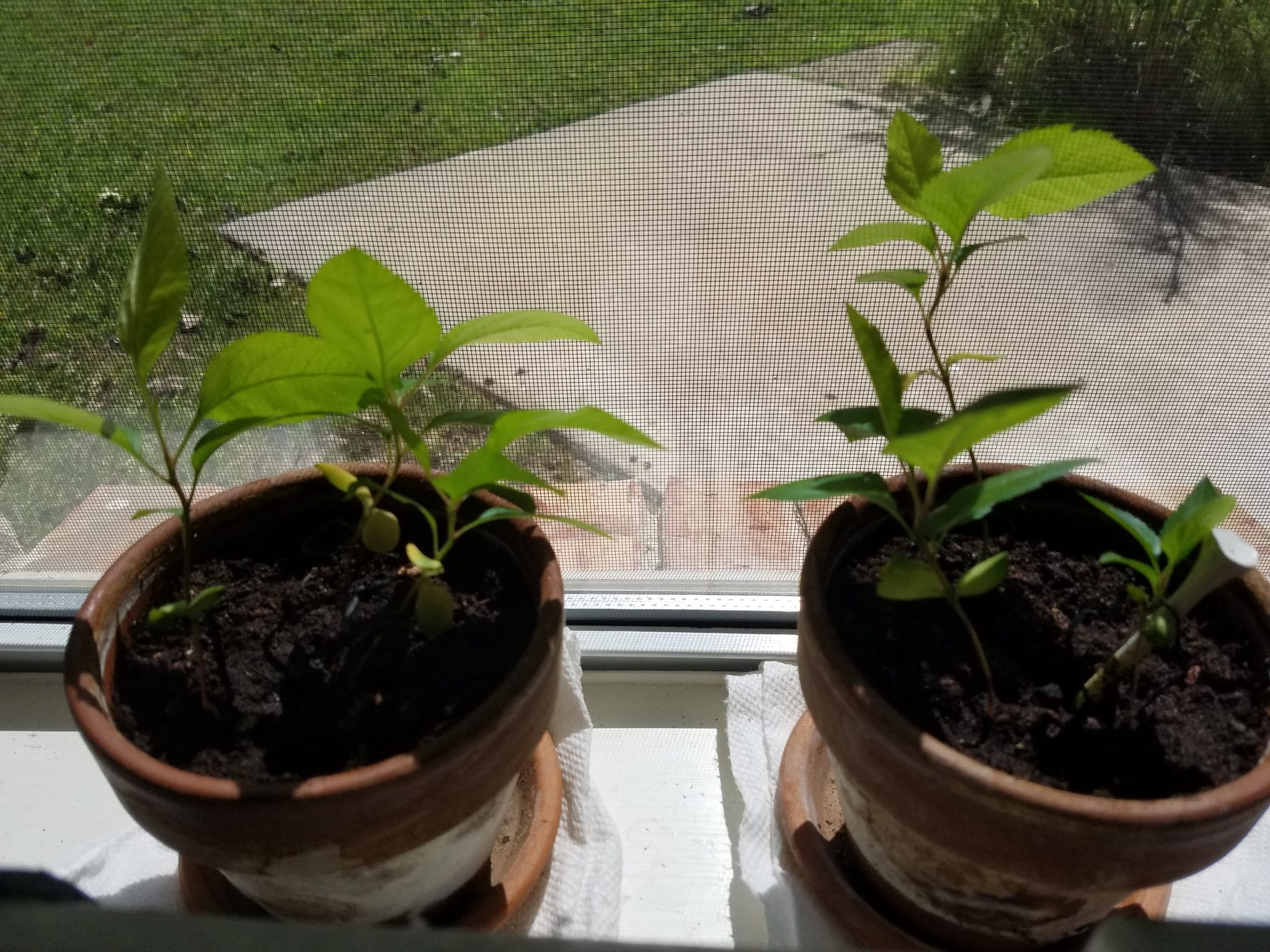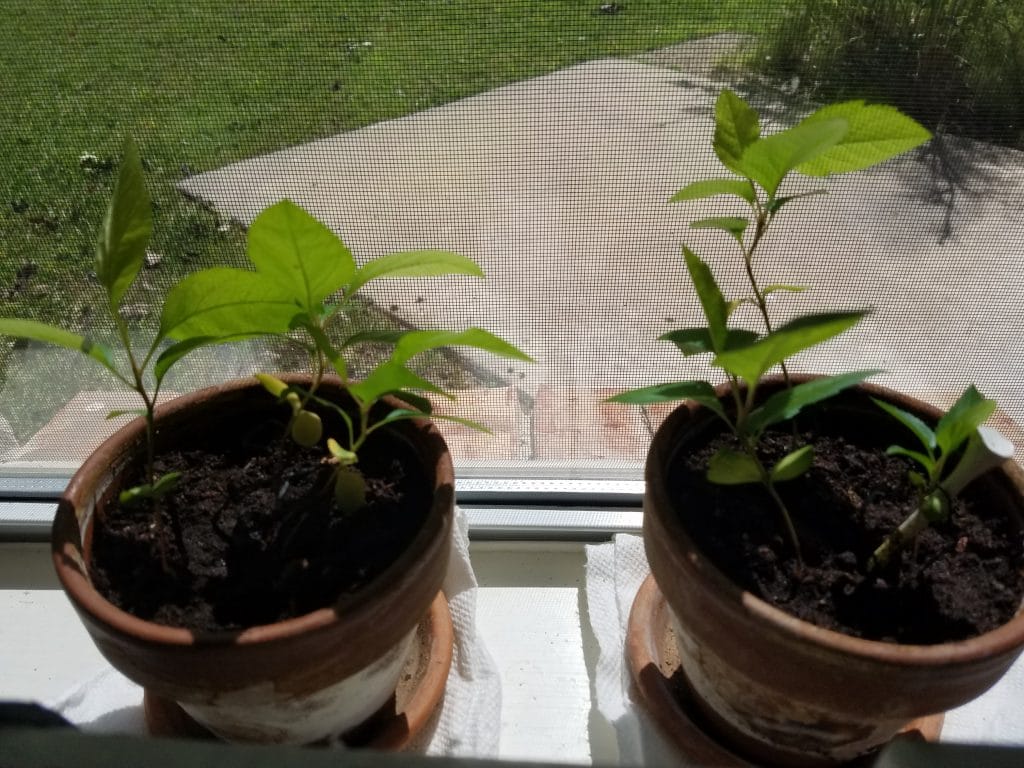 Meanwhile, I'm growing apple trees from seed to teach myself patience.